Craig's Green Table is on Instagram! 📸 Follow @craigsgreentable to see what's cooking! 💚
One of my favorite Corned Soy Curls recipes is from the brilliant Chef Skye Michael Conroy (The Gentle Chef), who offers a handful of well-thought-out, staple soy curls recipes in his mini digital cookbook La Vegan Gluten-Free Boucherie (no affiliation, I'm just a big fan!). He doesn't use pre-made pickling spices; he provides a perfect recipe to create your own from scratch if that's your kinda thing. His recipe inspired me to work on my own Corned Soy Curls that are oil-free and have a corned beef-like texture. By shredding the curls and adding slivered rice paper, a very pleasant, cut/shredded corned beef texture is achieved that delivers a delightful fatty chew.
Dedication
I am delighted to dedicate this recipe to Chef Skye Michael Conroy, a true trailblazer in the world of vegan and plant-based cuisine. His innovative recipes have been a source of inspiration for me for many years, starting with his Tofu Scramble seasoning, which I have used countless times in my own cooking. Through his flavors and techniques, Chef Skye has opened up a world of possibilities for those seeking to create delicious and healthy plant-based meals. Thank you, Chef Skye, for your contributions to the culinary world and for inspiring others to explore the beauty and versatility of plant-based cuisine.
Visual Recipe for Corned Soy Curls
How to Shred Soy Curls
Using a pasta maker with spaghetti attachment, shredding soy curls is a cinch!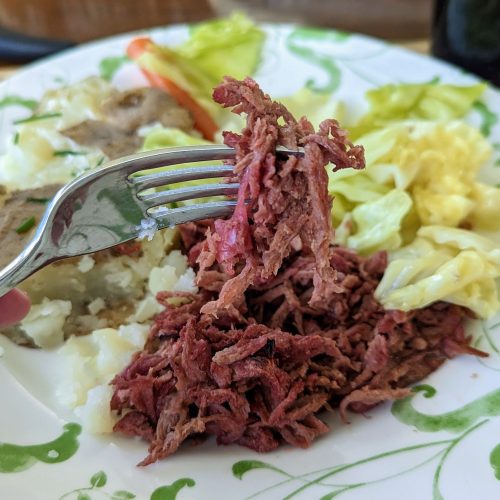 Corned Soy Curls
Corned soy curls are great with potatoes and they're perfect in a Reuben sandwich.
Ingredients
4

oz

soy curls

(1/2 bag)

1 ½

tbsp

pickling spice

(salt free, such as McCormick or homemade)

2

bay leaves

water

1 ½ – 2

tsp

Kosher salt

(always use less salt if using a finer-grained salt than Kosher salt)

1

tbsp

malt vinegar

(apple cider vinegar, red wine vinegar, or white wine vinegar would work here as well)

1

tsp

beetroot powder

2

sheets

rice paper
Instructions
In a slow cooker on low heat, add soy curls, bay leaves, ball/bag of pickling spice, malt vinegar, and just enough water to cover most of the curls, but not fully submerge them all

Cover and cook over low heat for 7-9 hours, this is mostly time to infuse flavor

Meanwhile, break the rice paper into 1-inch slivers (an easy way to do this is to put the sheets of rice paper into a dedicated 1-gallon plastic bag, seal it, and proceed to break the paper into pieces by hand)

After the soy curls have cooked for 7-9 hours, remove them to a plate for shredding

Pour the remaining cooking broth along with bay leaves into a saucepan over medium heat, and cook to a reduction to about 1/2-to-3/4 cup of liquid, stirring occasionally. Take off heat.

Shred the soy curls using your preferred method

Preheat the oven to 400°F

Add about 1/2 of the reduction to the soy curls, taste for seasoning, and add up to the entire amount more of the reduction if desired

Mix the beetroot powder with about 2 tbsp water and mix into the soy curls

Add slivered rice paper to the soy curls and mix

Spread the soy curls on a baking sheet or in an uncovered, oven-proof dish

Bake soy curls in the oven for 10-20 minutes, until the moisture and texture is *just* right
Notes
I made Reuben sandwiches with the leftovers and they were delightful! To reheat, gently cook over medium heat on a skillet until very warm.
Craig's Green Table is on Instagram! 📸 Follow @craigsgreentable to see what's cooking! 💚