There are a number of respectable plant-based sour cream recipes out there, but they seem to miss the mark on balanced flavor. Or, after a day or two in the refrigerator, they get… weird. There were so many failed attempts, I pushed this recipe aside until I realized it may be a key to achieving next-level plant-based mashed potatoes. Here's how that happened.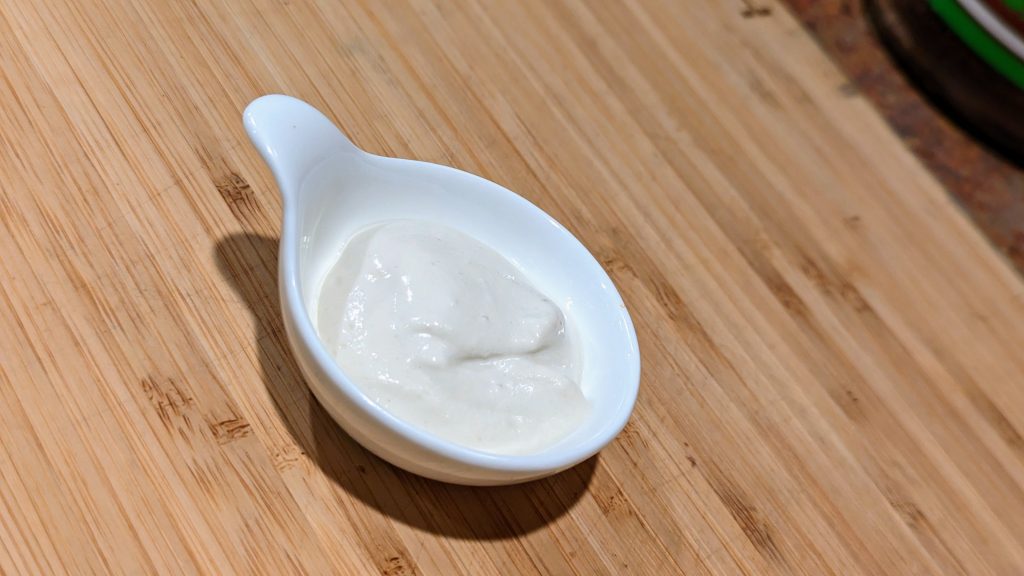 I had tried out an unrelated recipe from Shane & Simple, an outstanding vegan food blog. If I remember correctly, I ended up there from an interview I was reading with Shane as the interviewee, and I found it all quite captivating. Anyway, I eventually landed on his recipe for mashed potatoes that included his recipe for cashew sour cream. His mashed potato recipe included onion and garlic powder, which are taboo in my mashed potatoes, so I never made that, but I made his sour cream, and it gave me some ideas. What if I balanced the creamy, light cashews with blanched almonds? What if I added a small amount of super sweet white corn to kick up the creaminess and add a touch of sweetness?
After a few tests, I ended up with a recipe that I want to engrave in steel, put in a time capsule, and shoot into space for safekeeping. I haven't deviated from it in a long time. It's equally good in mashed potatoes or on supreme Soy Curl tacos. And before I end up telling you my entire life story, let's get to the recipe!
Important!
Sometimes it's the smaller details that make the difference between mediocre and marvelous cooking. There are two things of the utmost importance that need to be considered for this recipe:
Soak the cashews in hot water, ~140 to 170°F for 10-20 minutes.

If you soak them in boiling water this will bring out too much cashew nut flavor and sweetness which are no bueno in this recipe.
If you soak them for an hour or longer, this will negatively impact the flavor! Try to stick to that 10-20 minute range.

If you blend the mixture too long and it heats up to a noticeable warm state, this will affect the vinegar and lemon juice added. when you taste it before adding the acids, it should be no warmer than just above room temperature.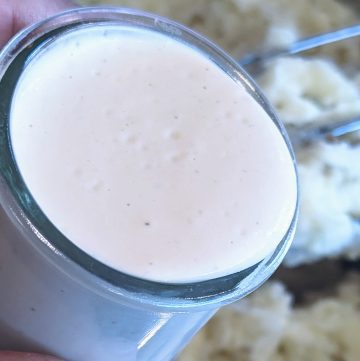 Plant-Based Sour Cream
This is THE sour cream recipe. It's great the same day it's made, or a week or longer later. It's bright, balanced, and tangy.
Ingredients
The Base Ingredients
2

oz

raw cashews

soaked in hot water for 10 minutes (about 1/2 cup)

2

oz

blanched almond flour

– I keep this stored in the freezer, it helps to maintain a low temperature for the finished sour cream

1

oz

frozen super sweet white corn

(about 2 tablespoons)

1/2

tsp

kosher salt

1/2

cup

water + 2 tbsp water
The Tang Ingredients
1

tbsp

apple cider vinegar

I use Heinz filtered ACV in this recipe; I haven't tried Bragg's yet

1

tbsp

fresh lemon juice

don't omit or substitute
Instructions
Soak cashews in hot (not boiling) water for at least 10 minutes

Drain water from cashews. Add cashews, almond flour, corn, salt, and water to a high-powered blender

Blend on high speed for 1 minute (or longer if not fully creamy)

Pour in apple cider vinegar and lemon juice and blend on the lowest speed for just a few seconds until incorporated
Notes
In moving this recipe from the blue index card to the digital file, I thought about how it's not foolproof. If the blended mixture gets too warm and you add in the vinegar and lemon juice acids, it does some odd things to the flavor. If you run into this situation, which I have in the past, the best option is to add just a *touch* more of each acid to create a sour cream worthy of writing home about.
The next time I make this, I will swap out the 2T of additional water for an ice cube to keep the temperature low during blending.