Read me first:
When prepared with the right ingredients, Flaxseed Mayonnaise is fairly straightforward to make, but it is essential to find a golden, clear, filtered flaxseed oil that is not bitter. Your best bet may be a local source that stores their flaxseed oils in a refrigerated section. Also, as a somewhat specialty item, it's not cheap. I have tested numerous brands but only had luck with one so far (Barlean's Fresh Flaxseed Oil), and flaxseed oil can vary bottle-to-bottle depending on storage conditions. Remember: this is a rare recipe that features flaxseed oil as the star of the show, so it needs to be great tasting oil to produce great tasting mayo.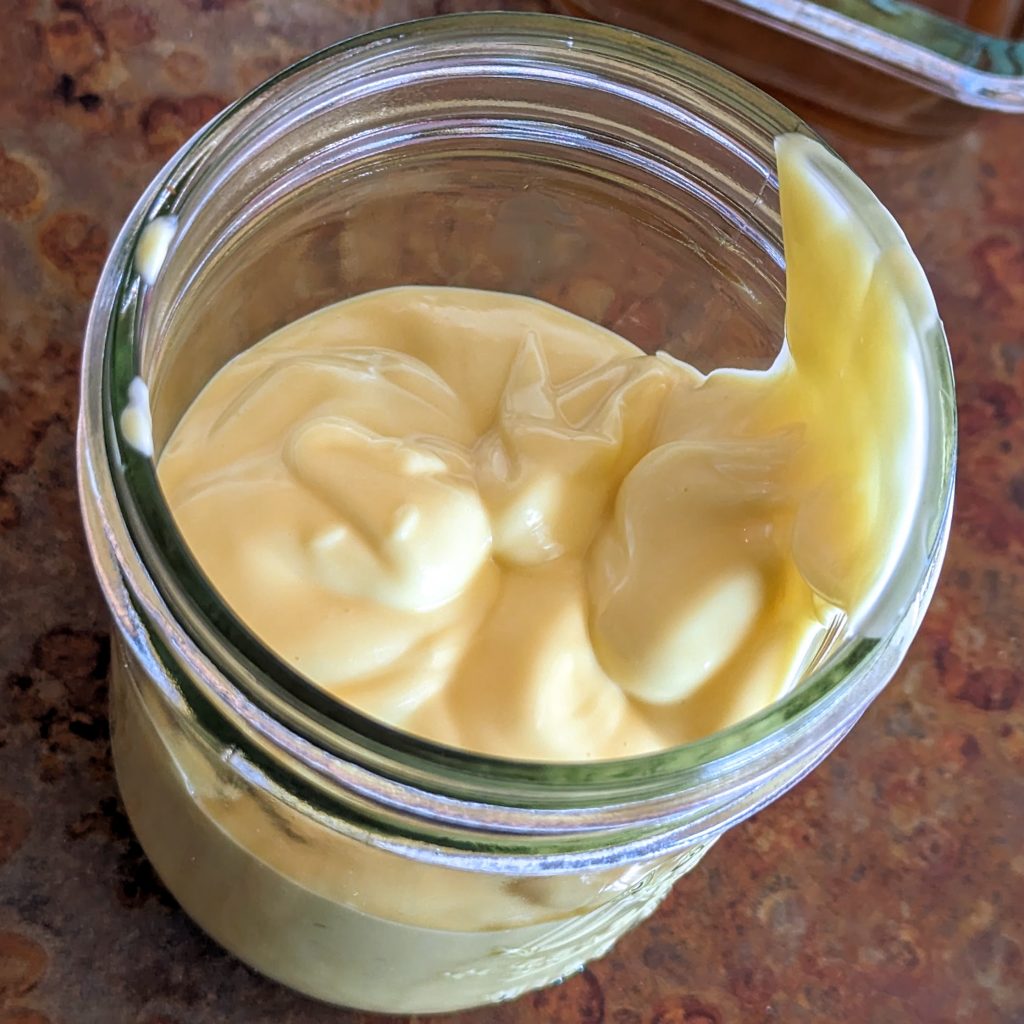 About The Oil
If you're anything like I used to be, the mere mention of flaxseed oil in mayonnaise may send you running for the hills. But as someone who used to be skeptical of such a pairing myself, I can confidently say that this homemade mayonnaise made with flaxseed oil will change the way you think about mayo forever. If you're a true foodie with a passion for bold flavors, you won't want to miss out on the exquisite taste and health benefits of this luxurious Flax Mayonnaise.
Flaxseed oil, also known as linseed oil to our friends in the UK, is the base oil for this mayonnaise. It's not necessary to rehash the health benefits of flaxseed oil that are already covered in great detail all over the internet (anti-inflammatory, brain- and heart-healthy omega-3 fatty acids being one of the most significant ones).
Types/Brands of Oils
To make this mayonnaise, you'll want a clear, golden, unrefined flaxseed oil without lignans. Lignans provide added health benefits, but they're too potent for this delicacy. The Barlean's brand red-label flaxseed oil is a great option. I have also tried La Tourangelle brand flaxseed oil and Carrington Farms Organic Flaxseed oil, but both were too bitter.
Uses
Flaxseed Oil Mayonnaise can be used in dips, dressings, and spreads as you'd expect. Its superpower is the ability to add a deep indulgence to your dishes. For example, you can mix about a tablespoon of Flax Mayo with a teaspoon of dark soy sauce and mix it into Soy Curls Taco "Meat" to create an unprecedented, rich taco filling.
More traditionally, make an aioli from Flaxseed Oil Mayonnaise, (additional) pressed garlic, parsley, and another small dash of salt.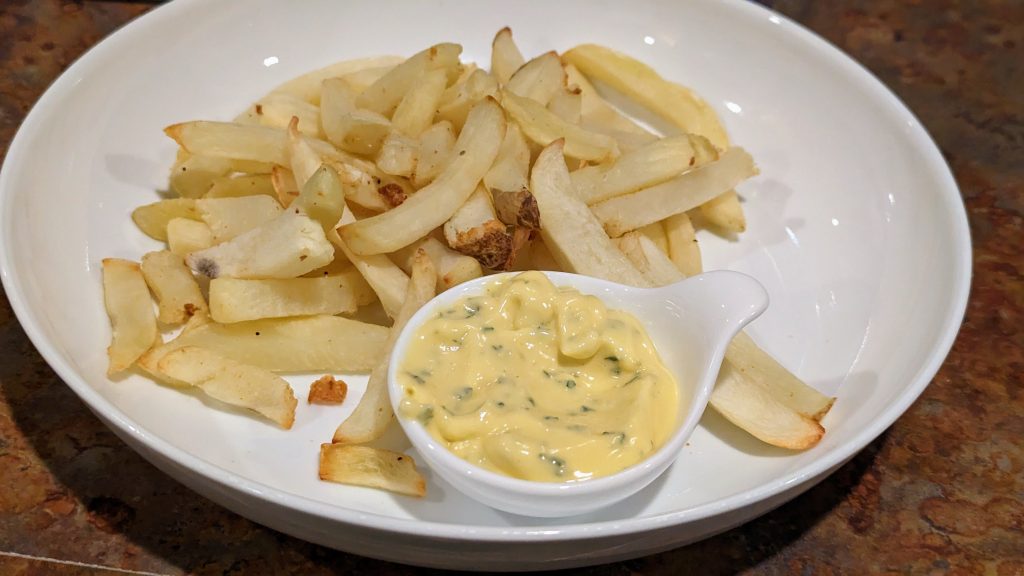 Flavor Profile & Substitutions
I will briefly touch on the subject of flavor profile, but I will try to not subject you to the likes of other recipe sources that write their life story in each recipe post. The closest flavor match I can think of to this Flaxseed Oil Mayonnaise is Japanese Kewpie Mayonnaise. I cannot provide any recommended substitutions at this time as I have found no product or recipe so similar to provide the richness and positive nutritional benefits.
Can I Use Chia Oil?
Chia oil is another high omega-3 oil. I tried the most popular chia oil that I've used: First Cold Pressed Virgin Chia Oil by Seeds of Wellness (SOW). I've used it in relatively small quantities at the end of cooking, it can make great air fryer french fries. The problem with this oil is its notable ocean-y taste of omega-3 fatty acids. That strong fishy flavor makes an interesting mayonnaise, which some may like, but I found it unpalatable, so no, I do not recommend using chia oil for mayonnaise unless you are looking to experiment.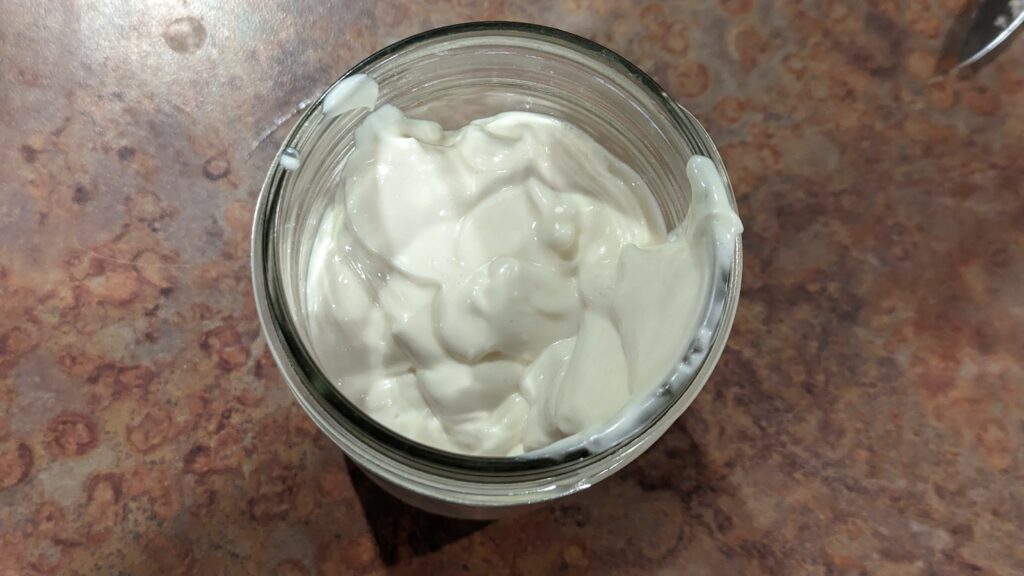 A Note on Kala Namak/Black Salt
Some kala namak brands are far better than others, and some are simply unpalatable and need to be disposed. My tried and true preference is kala namak from The Spice Lab.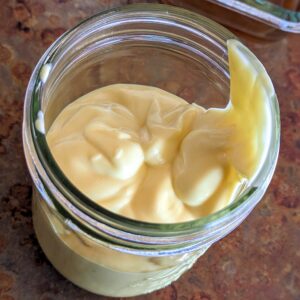 Flaxseed Oil Mayonnaise
This luxurious, delicate mayonnaise will elevate your meals to a new level of culinary refinement and is one of the only health-promoting mayonnaises on the planet. As this recipe uses soy milk and contains no commercial stabilizers, some water separation is natural; just give it a quick stir with a spoon before use when the water has separated.
Ingredients
1/2

cup

Soy milk

room temperature

1

tbsp

White wine vinegar

1/2

tsp

Fine sea salt

1 1/2

tsp

Dijon mustard

1

tsp

Fresh lemon juice

1

cup

Flaxseed oil

unrefined, cold-pressed, no lignans

1

pinch

Cane sugar

2-3

dashes

Kala namak (black salt)

1/2

clove

Fresh garlic

pressed (or 1/3 clove finely minced)
Instructions
Before You Start
Please note that mayonnaise emulsion failures can happen when making this recipe at home, and flaxseed oil is not an inexpensive ingredient. If you're concerned about the mixture failing to emulsify, you may want to consider using a less expensive oil, such as generic canola oil instead. It's always a good idea to keep this in mind before starting the recipe.
Getting Started
Add room temperature soy milk to the food processor and blend for one minute.

Add vinegar, lemon juice, salt, and Dijon mustard to the food processor and blend for about 30 seconds.
The Emulsion
To create a proper, creamy emulsion, this next step should feel painfully slow and take 2-4 minutes to complete.

Turn on the food processor again, and let it run through the entire oil emulsion process that follows.

Start to drizzle the oil in very slowly, almost as slow as you can manage. I use the tiny drizzle hole in my food processor, but even that drizzles too quickly when unmoderated, so I slowly pour a tablespoon or so into the drizzle hole, wait until it's fairly empty, and repeat.

Once all the oil has been added, let the food processor run for roughly another 10 seconds or so for good measure.

Stop the food processor, add in cane sugar, pressed garlic, and 2-3 dashes kala namak. Run the food processor for 3-5 seconds to incorporate.

Taste and add salt as desired.
Storage
The mayonnaise will keep well in the refrigerator for about 2 weeks. Stir with a spoon as needed as water separation is natural.
Notes
I understand that Mayonnaise is a regulated term in some areas, however, it would do this condiment an injustice to simply call it a "spread" or "dressing", so I will continue to call it Mayonnaise.
Finally
Although this recipe pulls together some subtle techniques from trial and error, it found much inspiration from Adam + Joanne's Easy Homemade Vegan Mayonnaise recipe on their site, Inspired Taste. The main differences are, of course, the use of flaxseed oil, as well as the addition of pressed garlic and kala namak (black salt) that add a certain richness. I was inclined to start with their recipe because whenever I see someone using a blend of vinegar and fresh lemon juice, I know they're usually onto something special.
I am also considering experimenting with replacing some or all of the soy milk with flax eggs. If I do, I will share the results here.