How to Shred Soy Curls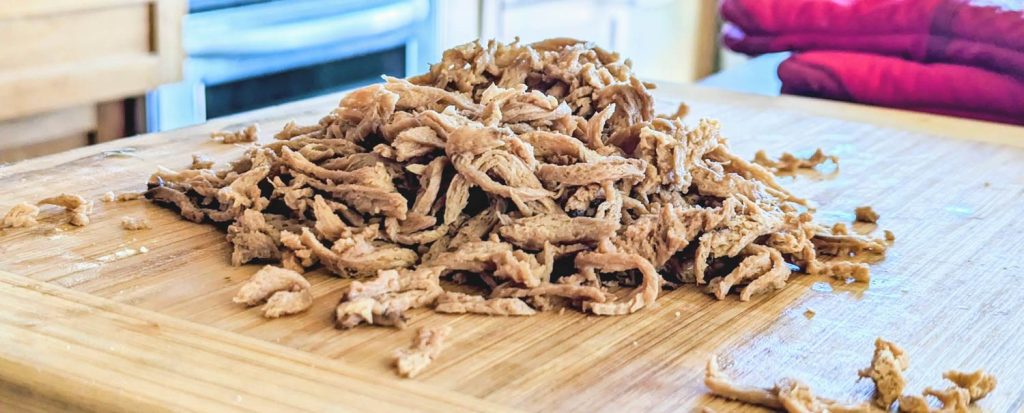 Shredding soy curls has always been a hot topic among beginners and enthusiasts alike, mostly because the traditional method of shredding with two forks doesn't give results similar to traditional meats. When attempting to shred with forks, the curls often tear into chunks. It's not bad, but not quite what most people are looking for when shredding soy curls. Keep reading for detailed instructions on how to become a soy curl master shredder!
Here We Go!
An Aside: How "Not" to Shred Soy Curls
Before getting to the shredding methods, I want to quickly review how not to shred soy curls. You can certainly try these methods, but in my experience they don't produce a typical shredded texture.
What Doesn't Work #1 – Shredding with a Food Processor
Food processors are great for SO MANY THINGS, but shredding soy curls? Ehhhh! Using a food processor with a typical "S" blade will generally produce roughly chopped soy curls. From there, the texture can go to a mince, then a mush pretty quickly. To be fair, it WILL produce a texture closer to what you're looking for, so I wouldn't rule it out, but I don't think it's going to produce what most people are thinking when they think 'shredded'.
What Doesn't Work #2 – Pulling Soy Curls by Fork
The classic two-fork pull method generally rips the curls apart into larger chunks, similar to a food processor. Again, they'll be textured, but maybe not quite what you're looking for.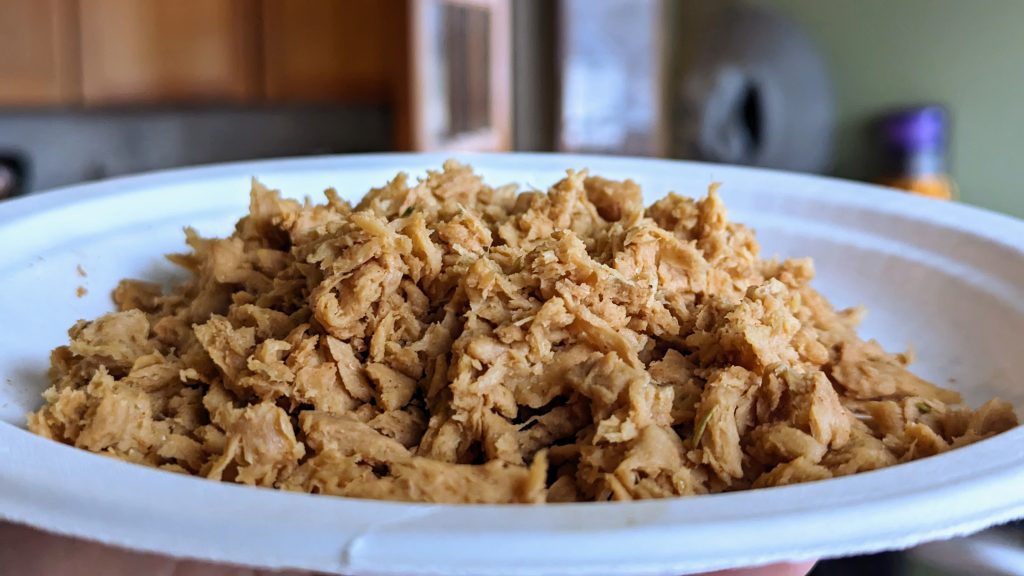 What Works
The following methods can all produce beautifully shredded soy curls. They are ranked from my least favorite to my most favorite method at the end, and I will include equipment, what the method is best for, steps, pros, and cons for each. Be sure to not skip over method #2 because it's the most versatile, and I'm not just saying that!
Methods
Hand Shredding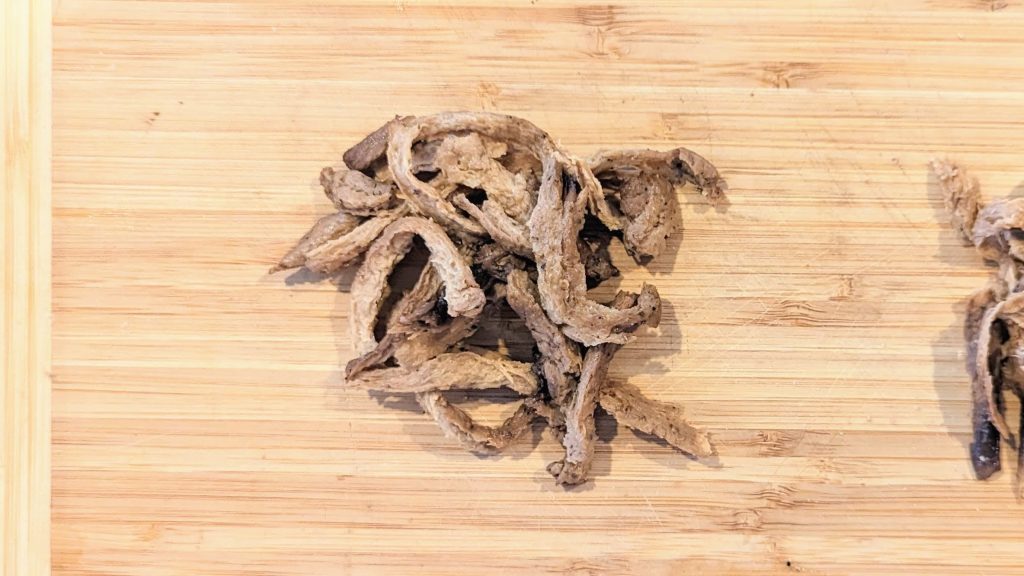 Equipment
Best For
Just starting out
Small amounts of soy curls
People that enjoy shredding things
Large shreds (tiny shreds take a very long time using this method)
Steps
Rehydrate soy curls
Cool to warm or room temperature
Grasp a soy curl with your non-dominant thumb, index, and middle fingers
Pull off shreds with your dominant thumb, index, and middle fingers
Pros
No special equipment needed
Easy to learn
Cons
Time consuming
Requires company or music or you may go crazy
Video
I was holding the camera with one hand, so this is more pulled-style, but I added it to provide an idea of how hand-pulling/shredding can work.
The Pasta Maker Method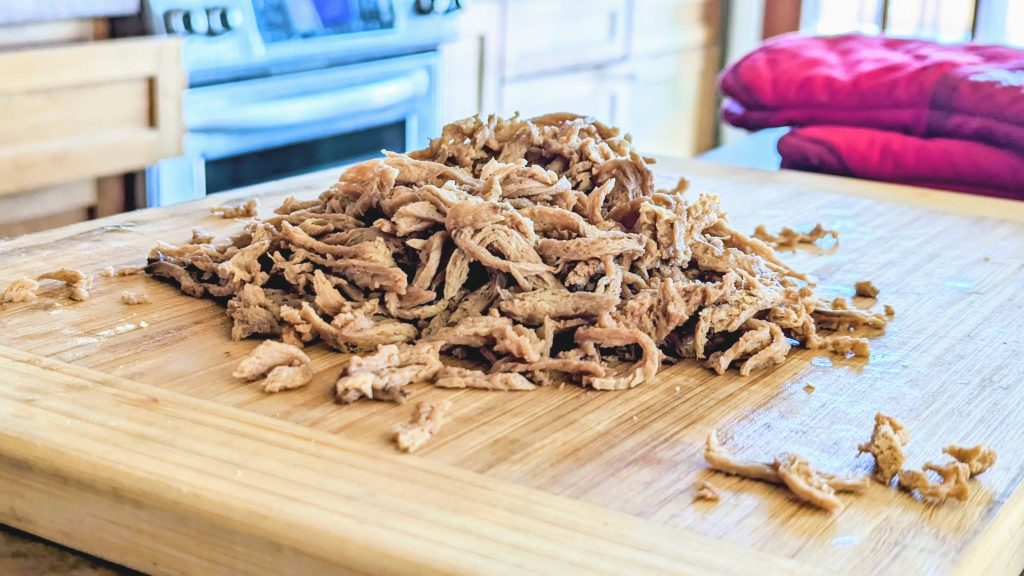 Equipment
Best For
Big, meaty shreds
Big BBQ shreds (though most people leave soy curls whole for BBQ)
Corned soy curls shreds
Steps
Rehydrate soy curls
Allow to cool to "warm" temperature
Attach a spaghetti attachment to a pasta maker
Carefully feed in soy curls, vertically into pasta maker with one hand while you crank the pasta maker with the other hand
Be sure not to catch your fingers in the pasta maker!
Pros
Faster than hand shredding
Relatively consistent results
Fun to crank
Cons
Video
The Rolling Pin Method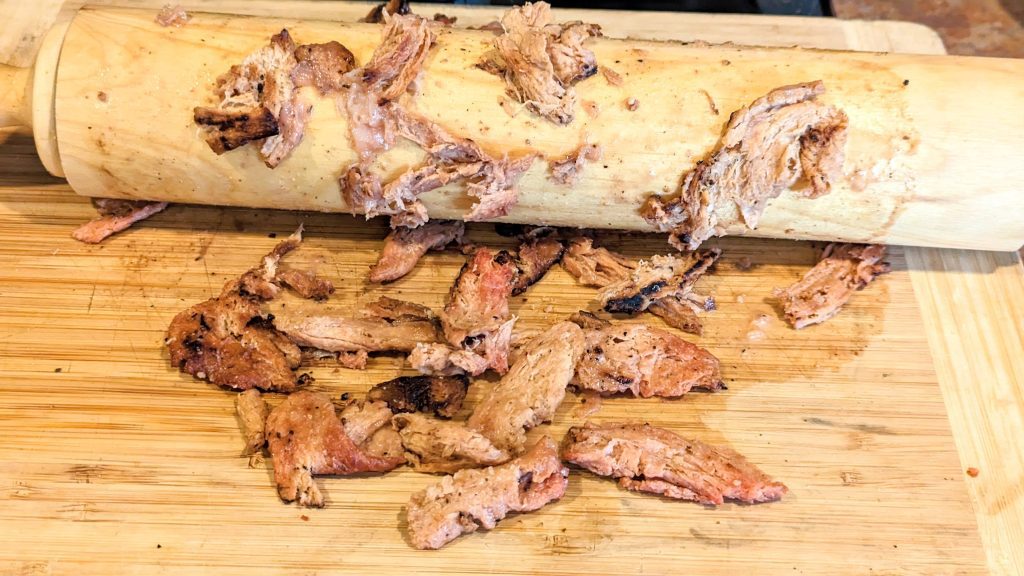 As far as I can tell, nobody was using this method. It came to me when I was thinking of ways to explore the range of soy curl textures. At first I tried pressing it under 50 pound weights, but dang it it wasn't resilient! Also, who wants to lug around giant metal plates when they want tasty soy curls? Then, one day it came to me: The Rolling Pin technique.
I LOVE this method, and I think you will love it too. It's rustic. It's hearty. It's dense. It's meaty. It creates a texture that's absolutely a delight to eat and is unbelievable on things like sandwiches.
To be clear, this is my #1 favorite overall technique for texturizing soy curls For shredding specifically, which is the focus of this post, the top award goes to the blender method because of the magnificent results in finely shredded soy curls it produces in record time, it's also more accessible to those that can't exert a lot of manual pressure, but the rolling pin technique… it is my GO-TO method!
Equipment
Classic rolling pin (#affiliatelink) I prefer a classic-style rolling pin vs French-style for soy curls, because of the larger surface area
OR, get creative: use a glass vinegar bottle. Heck, I've been known to smash them with the bottom of a flat pint glass, just, you know… be careful.
Best For
Dense, meaty texture, such as sandwich 'meat'
Shaved 'meats' like shawarma or gyros
Plant-powered Canadian Donair
The list goes on and on!
Steps
Rehydrate soy curls
Allow to cool to "warm" temperature
Drop a handful of curls onto a sturdy cutting board
Roll the pin over the curls, exploring different directions and pressures
Remove rolled/shredded curls to the side as you continue to finish rolling all curls
Pros
Best technique for dense, meaty texture 🥇
Best technique for sandwich 'meat' 🥇
Adaptable to many textures
Relatively quick to learn
Super fast, even with cleanup
Cons
Requires a rolling pin
Requires manual work during/after rolling for shredded consistency
Small learning curve, but there's still a learning curve
Video
The Blender Method 🥇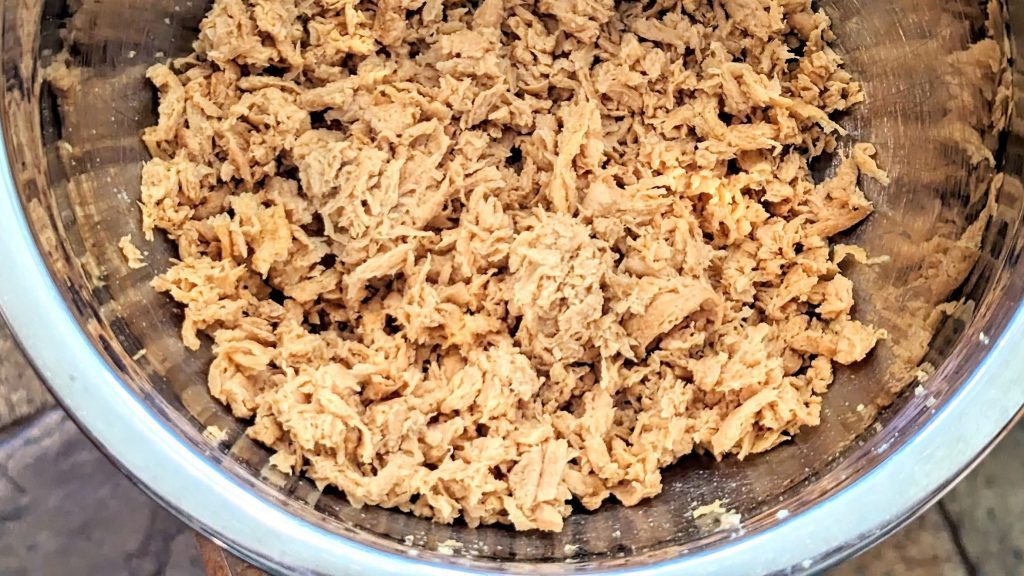 This is it, people. This is the gold standard in shredding soy curls. We have Julie Hasson to thank for originally posting this technique. It's as genius as it is simple. Why are all the Julies so dang smart?
Equipment
Best For
Moderately-to-finely shredded soy curls
Large batches of shredded soy curls
Steps
Rehydrate soy curls
Allow to cool to "warm" temperature
Drop a handful of curls into a blender
Cover blender, pulse, check, repeat 2-5 pulses total
Remove shredded curls into a bowl, repeat with next handful of curls
Pros
Top-tier shredded texture (look at that photo!)
Quick to learn
Super fast, even with cleanup
Super consistent results
Cons
Requires a blender
Small learning curve, but there's still a learning curve
Video
The Stand Mixer Method
Plant-based aficionado @mcdougallmom reshared a video of this method on Instagram recently, and for larger batches of soy curls it's definitely the way to go if you have a stand mixer.
Equipment
Best For
Moderately-to-finely shredded soy curls
Medium-to-large batches of shredded soy curls
Steps
Rehydrate soy curls
Add soy curls to the bowl of a stand mixer
Attach the classic "beater" paddle to the stand mixer
Wrap a towel around the open area of the stand mixer to avoid soy curl shreds going everywhere
Crank up the stand mixer to high speed until soy curls are shredded (when first doing this, only do it for a moment at a time to get a feel for it)
Pros
Easily shreds medium and large volumes of soy curls
Great texture
Cons
Need for a stand mixer
Towel cleanup
Video
Here's a link to the original post and video by @plantpurechef.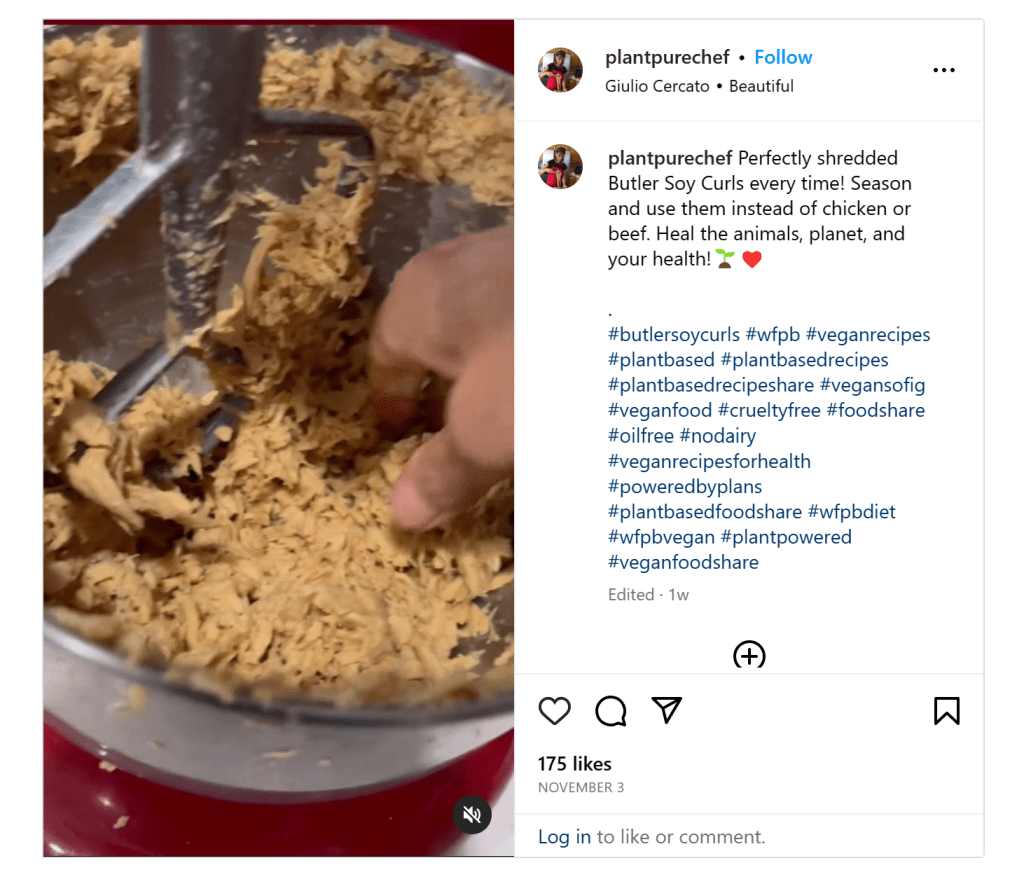 Conclusion
That's all, folks! Go forth and shred… and be merry!!