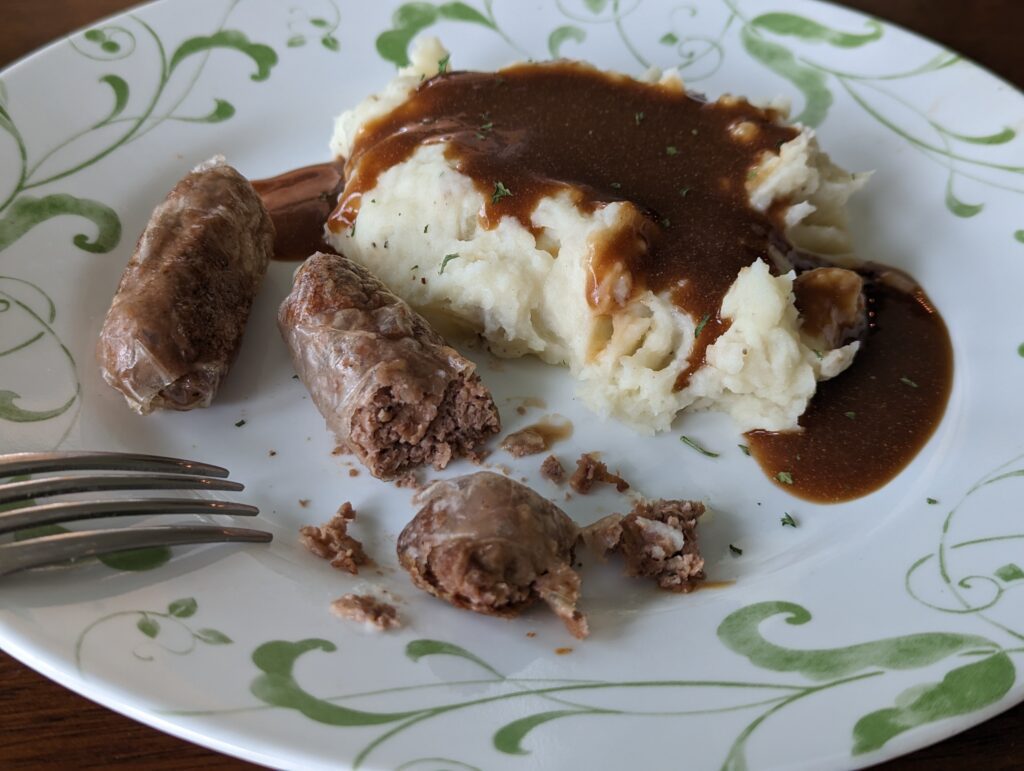 This is one of my favorite plant-based sausage recipes! Ever since the modern brands of store-bought sausages started using the fiber known as methylcellulose, the world of plant-based sausages fully leveled up. This fiber has actually been around for a long time, but has only recently been introduced to the plant-based food industry. It creates that quintessential "meaty" bite that no other methods have been able to do with meat-free products.
I've been making plant-based sausages like a crazy sausage-making fanatic. No joke! Here are some of the sausages I've made over the past year:
Plant-Based Andouille Sausage
Plant-Based Boudin Blanc
Plant-Based Braunschweiger
Plant-Based Breakfast Sausage
Plant-Based Frankfurters
Plant-Based Italian Meatballs
Plant-Based Italian Sausage
Plant-Based Liverwurst
Plant-Based Potatiskorv (Swedish Potato Sausage)
Plant-Based Red Snapper Hotdogs
Plant-Based Saucisse de Montbéliard
Plant-Based Sheboygan Bratwursts
Plant-Based Suffolk Sausages
Plant-Based Traditional Lincolnshire Sausages
Plant-Based Weiβwurst
Plant-Based Yorkshire Sausages
Plant-Based Zwiebelwurst
Why So Many Sausages?
There's actually a very logical reason for all of those sausages. You see, this all started with breakfast sausage. After a few batches, it became apparent that the road ahead was a lot longer than I anticipated. The sausages had promise, enough that I was willing to put in the effort. But, as I was working out base ingredients, ratios, and the various areas that could be adapted to form different types of sausages, I realized that my palate was adapting to mediocre, in-progress sausage recipes. To get around this, I started working with different spices. Texture was either hit or miss, and any texture misses had to be tossed because I cannot stomach unpalatable textures.
Ingredients
There are two ingredients that you may not have in your pantry yet.
If you're curious why I opted to use oats instead of more traditional breadcrumbs or rusk, I found that the taste with oats is fantastic and if I love the flavor, I will always defer to a health-promoting ingredient over a health-neutral or health-detracting one. That's also how I ended up identifying homemade raw walnut butter as a source of fat.
Instructions
If people are interested, I will write more about the journey, but without further ado, I present video instruction for Plant-Based British Bangers from start-to-finish.
Plant-Based British Bangers
Ingredients
Plant-Based British Banger Seasoning
1½

tsp

kosher salt

¼

tsp

msg

(or additional ¼ tsp. kosher salt)

½

tsp

white pepper

½

tsp

thyme, dry

½

tsp

rubbed sage, dry

⅛

tsp

mace, ground

⅛

tsp

nutmeg, ground

¼

tsp

onion powder

1

tsp

porcini mushroom powder

(or 3 pieces dried porcini mushroom) (or 1 tsp. shiitake mushroom powder or 1 tsp. button mushroom powder)
Instructions
Please see the instructional video at https://www.youtube.com/watch?v=L_kYucEtO8M