If I had to pick only one breakfast to eat every day for the rest of my life, it would be congee: the thick, creamy, savory rice porridge with a zillion names around the world. You might know it as congee, kanji, jook, juk, okayu, lugaw, bubur, cháo, rice porridge, and so on. Regardless of what you call it, congee holds top ranks on the savory breakfast leaderboard, and in my humble opinion, it's enjoyable any time of the day!
You can read more about congee and the importance of wet breakfasts (hydration!) at Andrew Sterman's site in his article Congee and Wet Breakfasts for Health.
Craig's Green Table is on Instagram! 📸 Follow @craigsgreentable to see what's cooking! 💚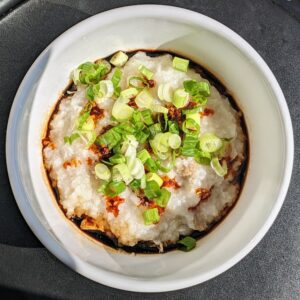 Plant-Based Congee
This simple Instant Pot congee recipe is a nourishing, savory breakfast or anytime one-pot meal!
Ingredients
⅔

cup

white jasmine rice

(dry)

4 ½

cups

water

¼

tsp

white pepper

or you can use just 1/8 tsp to add just a hint of flavor

1

large thumb of ginger

peeled and cut into short matchsticks

1

rib celery

diced

1

carrot

diced

1

tsp

salt (OPTIONAL)

**NOTE** after years of making it this way I'm now making it with no salt (except in the toppings) but someone transitioning from a Standard Diet may resonate more with the initial salt
Toppings (PER SERVING)
1

tbsp

Sambal Oelek chili paste

(optional for flavor and spice)

½-1

tbsp

low-sodium soy sauce or tamari

1

scallion/green onion

sliced, both white and green parts
Instructions
Cook on high pressure for 20 mins, quick release, stir, stir, and stir with a ladle. Add water if you'd like it thinner, or gently simmer using the sauté mode (low heat) if you prefer it thicker.
Notes
🤌 TOPPINGS
Scallions/green onions, thinly sliced (always add green onions or something similar!!)
Low sodium soy sauce
A couple of dollops of Sambal Oelek chili sauce
Anything else you fancy, this is a remarkably adaptable meal!
HINT
If adding a dark leafy green like chopped kale, add it right after the lid comes off and it will gently cook.
Congee has various names and interpretations across different cultures. Below are some names for congee and their associated regions:
Congee: General English term, known internationally
Jook (粥): Cantonese-speaking regions like Hong Kong and Guangdong, China
Zhou (粥): Mandarin-speaking regions, Mainland China
Okayu (お粥): Japan
Cháo: Vietnam
Lugaw: Philippines
Bubur: Indonesia, Malaysia
Kanji: South India
Kola Kanda: Sri Lanka
Khao Tom (ข้าวต้ม): Thailand (Though Khao Tom can also refer to a more soup-like dish with rice)
Juk (죽): Korea
Ginataan: Philippines (a variant with coconut milk)
Kanjiya or Kanzhi: Sri Lanka
Payesh: Bengal, India (sweet version)
Pongal: Tamil Nadu, India (a spicier, more textured variant)
Kheer: North India (sweet version)
Congee (Kongee): Anglo-Indian name, used among Anglo-Indians and older Indian communities
Arroz Caldo: Philippines (a version with chicken)
Muay (หม้อย): Thailand, a more generic term for porridges and gruels, sometimes used to refer to congee
Rice Gruel: Generic term sometimes used in English-speaking countries — but seriously, what is it about the word GRUEL that sounds like the opposite of appetizing?
Note that in some regions, different types of congee have different names, and some terms might not be exact equivalents but are local interpretations or variations of rice porridge. The same dish can also differ in consistency, additional ingredients, and overall flavor depending on the region.
Happy Congeeing!