Welcome to a new era of cooking. With the right touch of patience and persistence, we can craft plant-based alternatives that aren't just good substitutes, but truly surpass their meat counterparts.
A Bit of Background
Growing up we occasionally ate Liverwurst. Technically, I think was actually Braunschweiger that we called Liverwurst, but to be honest I never really put much thought into it because I was a kid and liver is gross to even think about to most kids. Well, liver is, but of course Liverwurst is all salty and fatty and aromatic, so even if it sounds gross, the flavor can be appealing to someone like me that enjoys deeply savory foods.
Fast-forward to adulthood, and every five years or so I would start thinking of the flavors and aromas of Liverwurst. So, I would get a tube, arm myself with a sleeve of saltine crackers, and obliterate my tastebuds with that salty-fatty-salty punch. Any craving for this food was immediately diminished, and it would fade away for the next half-decade until surfacing once again, like a seasoned organ meat version of Stephen King's IT.
That is, until this year. My wife mentioned that people in our Rancho Gordo bean club were raving about a lentil-based liver sausage, and those bean clubbers know what's up! So she sends over an Allrecipes link and I immediately feel like she's pranking me… but she swears the people are really into it.
I made variation after variation, changing out the type of lentils and changing out the seasoning until I finally worked my way to this recipe using a seasoning blend that is 100% inspired by traditional Liverwurst seasoning. I've been making this Liverwurst recipe for a while now and I'm still in awe of how ridiculously good it is. The red onion and red lentils give it that desirable, classic gray-pink hue (after it chills for a couple of hours), and the walnuts and seasoning make it downright luscious.
Method
A Quick Note On Liverwurst Seasoning
The whole seasoning recipe should make 6 or 7 batches of plant-based Liverwurst, I don't recommend adding more than 1/2 teaspoon per full batch of Liverwurst.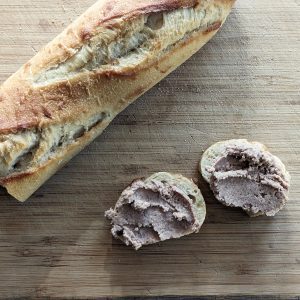 Plant-Based Liverwurst
An unbelievably good recipe of red onions, red lentils, walnuts, and seasonings.
Ingredients
1

large

red onion, diced

14oz/400g after peeling/trimming (about the size of a softball, roughly 2.5-3 cups diced)

1

cup

red lentils, dry

1½

cups

water

1

bay leaf

½

heaping cup

frozen walnuts

(2 ounces)

1

tsp

Kosher salt

½

tsp

Craig's Liverwurst Seasoning

recipe below
Craig's Liverwurst Seasoning (Makes About 7 Batches)
1½

tsp

white pepper, ground

¼

tsp

ground cloves

¼

tsp

ground allspice

¼

tsp

rubbed sage

½

tsp

marjoram, dried

¼

tsp

ground nutmeg

¼

tsp

ground ginger
Instructions
Soften The Onions
Heat a nonstick skillet over low/medium-low heat and add diced onion. Cook for about 20-30 minutes, stirring every 5 minutes or so until onion softens and loses its bite. A bit of caramelization is okay, but don't quickly brown them, they should be glossy and pink on one side.

NOTE: If you don't have a good nonstick skillet, I recommend using 1/2 tsp neutral oil or a quick burst of nonstick spray, otherwise the onions may stick and brown. Water tends to amplify the onion flavor, so I do not use it in this recipe. I'll add a link to the nonstick skillet I use in the notes!
Cook The Lentils
While the onions cook, add red lentils, water, and bay leaf to a saucepan over medium-high heat. Bring to almost a boil, cover, reduce heat to low and simmer until lentils are cooked, have a bit of bite to them, but not creamy.

While the onions and the lentils cook, mix together all ingredients in Craig's Liverwurst Seasoning, and if possible, grind them in a spice grinder or mortar and pestle (liverwurst seasonings are typically all ground, so we need to grind the sage and marjoram with the rest).
Let Lentils and Onions Cool Down a Bit
Once onions are cooked, take off heat and let them start to cool.

Once lentils are cooked, take off heat and let them start to cool.

After about 20-30 minutes, the onions and lentils should be just warm.
Process in Food Processor
Add onions, lentils, and walnuts to the food processor with an "S" blade. Process until mixed, about 30-45 seconds.

Add ½ tsp liverwurst seasoning. Process until mixed, about 15 seconds.

Add kosher salt as desired (I used 1 tsp), Process until mixed, taste for salt, and add more if desired. Don't over-season – the flavors will harmonize and intensify as it chills and rests.
Wait at Least 2-3 Hours
Refrigerate a few hours until cool, serve cool or at room temperature, stores very well in the fridge for several days. During the waiting time, the flavors will continue to meld and the color will darken to a wonderfully classic gray-pink color.
Notes
I use the 10 1/4″ version of this NINJA NeverStick pan, and it's amazing!
I often use frozen walnuts in recipes because it helps to keep recipes that are blended or prepared in a food processor from overheating.
This plant-based, vegan Liverwurst pairs well with snacks and appetizers, but is hearty enough to lead a meal.