Growing up in a small town in Downeast Maine, our go-to lunch when doing summertime activities was "Italians" (aka the Italian Sandwich). It's a harmonious flavor I will never forget. In this recipe, I will share some of the traditional secrets that made them SO DELICIOUS!
Ham is the standard meat of a Maine Italian. More specifically, that really generic, "cooked ham", the stuff that's used in this guy's Maine Italian video. I used my plant-based smokehouse ham, and it was awesome! If I make a plant-based "cooked ham" in the future, I'll be sure to try it out in an Italian and let you all know how it is. If you want be a Craig's Curls Recipe Volunteer, I would love to work with you on making a cooked ham out of soy curls!
The Secrets
You get to pick-and-choose what you want on a Maine Italian. I used to pick off the tomatoes. I added oregano in this recipe but like everything it's optional. Oregano would've been on a fancier Maine Italian, likely from somewhere out of Portland (note: that photo is not representative of classic Maine Italians!).
Don't go crazy piling up the ingredients. Maine Italian is all about balance and harmony. Look at the photo, it's a pretty good representation. You don't want pickles overlapped. Next time I will dice up the onions and tuck in some sliced green peppers in true Maine Italian form!
The Number One

Most Important Secret

of the Maine Italian that NOBODY ELSE IS TELLING YOU…
Make them ahead of time! These are very, very good fresh, but like many things, the flavors will really start to shine after a few hours.
A Note About
Cheese
Lastly, traditional Maine Italian sandwiches will have white American cheese on them. If you're feeling the need, feel free to cheese/plant-based cheese it up, but this sandwich holds its own without the cheese!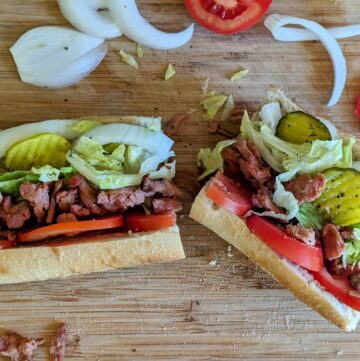 Plant-Based Maine Italian Sandwich
A literal mouthwatering rendition of a New England regional classic sub sandwich.
Ingredients
Soft Italian bread

(Fresh or gently heated French baguette can be used as pictured)

Tomato, sliced

White onion, sliced or diced

Green bell pepper, diced

Dill pickle slices

Finely shredded iceberg lettuce

(butterhead lettuce is great, too!)

1

pinch

Black pepper

1

pinch

Oregano

1

small pinch

Cayenne pepper or Paprika

1

splash

Red wine vinegar

(only if you like vinegar on your sub)
Instructions
Be sure to read or skim the section "The Secrets" in the associated blog post.

Assemble as seen in the picture. Everything listed is optional but legit New England-style. Everyone has their own preferences, maybe someone wants yellow mustard and no vinegar, plenty of people are averse to tomatoes, and others may even want a little salty punch of olives – no matter your preference, go for it!
Notes
A note on oil: traditional New England-style subs use a neutral vegetable oil, what used to be referred to as a salad oil, however it's not a deal-breaker to omit that oil as I have done. If you REALLY want that experience, (and sometimes I do!) simply dice the onions and add just 1/2 teaspoon neutral vegetable oil (not extra virgin olive oil) to the onions in a small dish and then add them to your sub. I would also sprinkle the spice ingredients on top of these onions for maximum flavor!
Video
I found a video of a Maine Italian that's actually fairly legit, though the guy is an absolute animal with the tomatoes.