Update: April 30, 2023 — I have added instructions for a lower sodium version of these mashed potatoes in the recipe notes!
I love potatoes. I really love mashed potatoes. For many years, I have been on a quest for remarkable plant-based mashed potatoes. By remarkable, I mean:
Classic homemade style: not a variant like garlic or chive mashed potatoes
Fluffy type of potato: ideally Russets or similar
No overpowering flavor: they should be well balanced
Dairy-like creaminess: all while keeping a few rustic, soft potato chunks for added texture
Tastes great by themselves: or with gravy
Tastes great now and later: outstanding flavor the same day and as leftovers
No weird ingredients: or anything proprietary or tied to a brand
Salty: with bonus points if it tastes good with less salt so it's more widely appealing
Rich taste: without leaving you feeling "heavy"
That je ne sais quoi: that makes mashed potatoes so good, an almost imperceptible tanginess and imperceptible sweetness
Prerequisites
This recipe uses a homemade (plant-based) sour cream that can be made many days ahead of time or right before you make the potatoes, but it has to be available right after the potatoes finish cooking.
Pairings
These mashed potatoes are a staple in my world. I often enjoy them with plant-based sausages; I particularly like the French-Canadian, French, and British sausage pairings. They go quite well with Soy Curls Ribs or BBQ, and are downright amazing with my Classic New England Style Pot Roast With Soy Curls.
This is truly a labor of love; I implore you to make these as I have at least once. Like everything amazing, the key is subtle layers of flavors that exist in harmony. I've studied to adapt some of the techniques observed in recipe videos by Michelin-rated restaurant chefs, and a key component is layering simple, natural flavors into a culinary experience.
Notes
Before you begin, a few notes:
Peeling 5 pounds of potatoes leaves you with roughly 4.25 pounds of potatoes.
I peel 70-90% of the potato. Too much peel gives an earthy taste, too little peel misses an opportunity for taste and texture.
A bad potato or a few parts of bad potatoes will alter the amount of final potatoes you have to cook, so tasting and adjusting potato broth, salt, and sour cream in the final mix is essential.
When salting, I found it palatable at 1/2 teaspoon of added salt if you're watching salt intake, but my preference is at approximately 1 1/2 teaspoon (in addition to the sodium in the potato broth used).
Let's Make Craig's Mashed Potatoes
Here is the story of the mashed potato.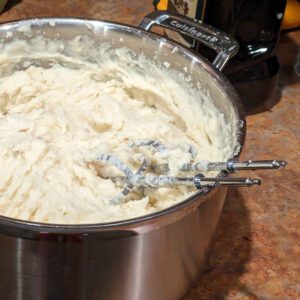 Craig's (Plant-Based) Mashed Potatoes
A labor of love recipe and my quest for the holy grail of classic "dairy-tasting" without that "dairy-feeling" mashed potatoes.
Equipment
Medium/large steel or glass bowl

for the both after cooking

Ladle

2

Trivets

for countertop when mashing
Ingredients
1

batch

Plant-based sour cream

5

lbs

Russet potatoes

¼

tsp

Marjoram, dry

⅛

tsp

White pepper, ground

1½

tsp

Salt

– I use iodized sea salt, but any plain salt will work. This is roughly the amount I use, you may adjust to your taste preference.
Instructions
NOTE: See recipe notes for a wonderful lower sodium version!

Prepare a batch of plant-based sour cream

Peel most of the potato skins and rinse/scrub potatoes

Slice medium and large potatoes once lengthwise, and then into 1cm slices. Slice small potatoes simply into 1cm slices.

Add potatoes to a cooking pot

Add chicken style broth powder, marjoram, and white pepper to the cooking pot on top of the potatoes

Top with just enough water so the top layer of potatoes are sticking above the water as if they are treading water

Place pot over high heat to bring to just a low boil, reduce heat to maintain a low boil during cooking, and do not cover. Stir every 5 minutes or so.
Drain and Save the Potato Cooking Broth
When potatoes are fork tender, decide on how you want to drain and save the broth:

I prefer to use a slightly ajar lid to the pot and two giant oven mitts to pour the broth into a steel bowl. This requires a bit of practice and dexterity.

Or, you can use a colander on top of a bowl, slowly pouring in the potatoes and broth, and once all of the broth is separated, put the potatoes back into the original pot.
Time to Mash
With the beaters attached to a hand mixer, or with a separate hand potato masher, coarsely mash the dry, cooked potatoes

Now, ladle in 2 ladles of hot potato broth onto the coarsely mashed potatoes and begin beating on a low speed.

Repeat by adding 2 more ladles of potato broth on to the mashed potatoes, and gradually increase the speed of the hand mixer.

Add 1/2 tsp of salt, mix, and taste for saltiness and texture, at this point we're still a ways from the final mashed potatoes, but it's good to get an idea of just how far.

Add 1-2 more ladles of potato broth, and ½ tsp more salt, if desired, mix on medium-high speed now.

Add in roughly ½ cup of the sour cream, mix, and taste. No need to measure that sour cream with a measuring cup, just eyeball it.

At this point, you're at the final stretch. Use your senses to adjust for saltiness (by adding more salt), creaminess (by adding more broth), and tanginess (by adding more sour cream). Note that the broth is not very salty, so whenever you add more broth, that may necessitate adding a bit more salt.

Once the balancing is complete, your final taste test should leave you with a smile on your face.
Notes
For a lower sodium version, replace the

vegan chicken-style broth powder" with the equivalent amount of nutritional yeast flakes and lower the salt to around ½-to-1 tsp. Most of the sodium in this recipe will be from the salt and the vegan sour cream.