Plant-Based Mayo
If you're anything like me, the first thing you probably want to know is this:
This is a cashew and Brazil nut-based mayo.
I made this plant-based mayo recipe to fill a void. There are a thousand and one vegan mayo recipes out there, so I'll briefly explain what combination of traits makes this mayo special.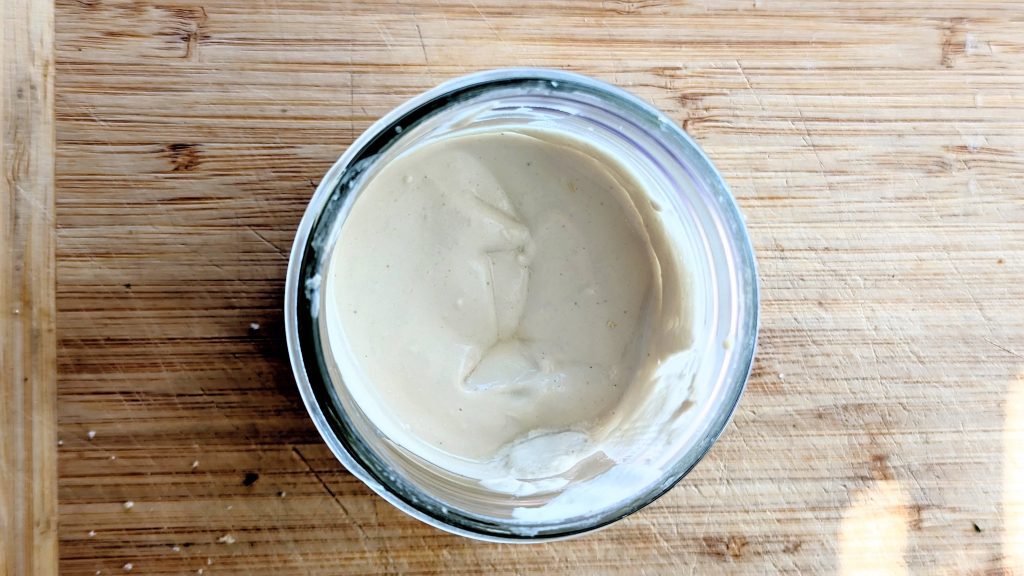 The mayo above ☝️ is surrounded by crumbs because I just made a soy curls fast-food chicken sandwich with it.
What's Special About Craig's Plant-Based Mayo
It's rich, but not overwhelming to the senses (i.e. it's not hyperpalatable).
It's mayo-adjacent with a delightful flavor that's not leaning on onion and garlic powders as foundational funk. It pulls the funk almost exclusively from the (miracle) ingredient: kala namak (#affiliatelink). I'm still waffling on whether or not mustard or mustard powder should be included. I'll keep testing.
It's cold-processed after a hot soak, which I think is a key to keeping the flavor profile neutral.
Its nutritional profile is much more balanced than oil-based mayo, and you don't need to use a lot of it.

Side note: I generally ignore calories (blasphemy, I know). If you keep an eye on them, I would think reasonable use of this mayo would still be compliant with "truly low-fat" 7-10% of daily fat calories (which may be relevant if you happen to be following a Kempner, Pritikin, Ornish, or McDougall way of eating).

As your taste preferences change to healthier foods, and you want a decent option for a rando craving, you may find a recipe like this helpful in your journey as I have.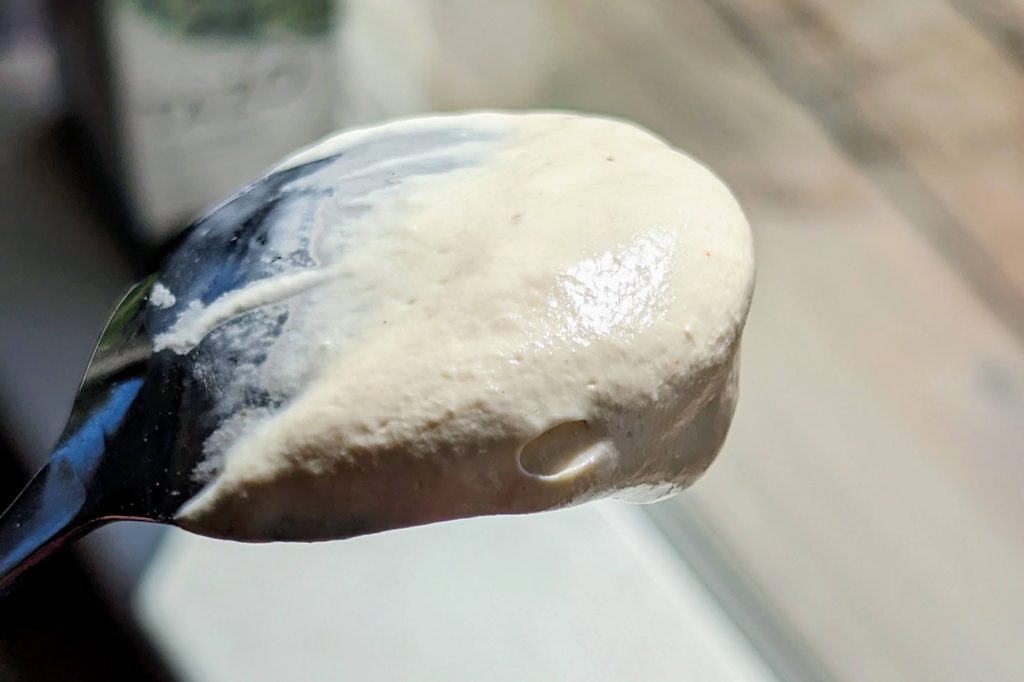 My Daily Nom Noms
Whether it's nuts, a nut butter, this mayo, yum yum sauce created from this or similar mayo, avocado or what-have-you, I tend to feel unsatisfied if I don't have something in this category once a day. I don't make the rules, but I do steer the ship, so little hacks like this mayo help me maintain my direction.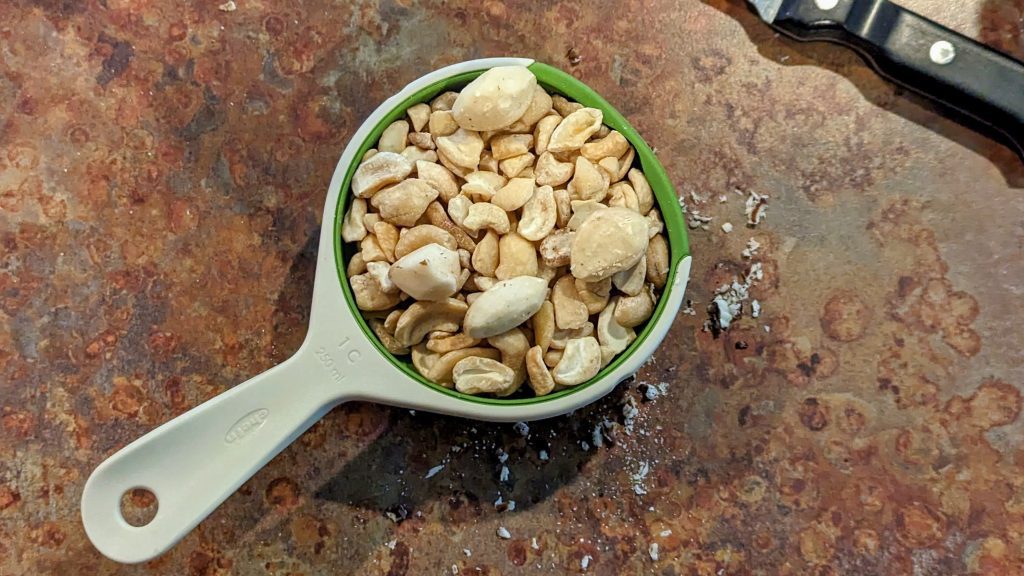 Let's Mayo!
Plant-Based Mayo
This plant-based mayo recipe
Ingredients
1

cup

cashews

4

Brazil nuts

2-3

cups

hot water

(not boiling, maybe 140-170℉)

½

tsp

kala namak

pinch

paprika

2

tsp

apple cider vinegar

4

tsp

white vinegar

6

tbsp

ice cold water
Instructions
The Soak
Add cashews and Brazil nuts to a bowl and cover with hot water.

Refrigerate the bowl for a few hours, until chilled. (The idea behind this step is to use hot water to soften rather quickly and then bring them back up to temp without a lot of work. An alternative could be a 15-20 minute hot soak plus an ice cold rinse!)

Drain and gently rinse nuts, add to blender with the remaining ingredients and blend on high 60-90 seconds, avoiding heating it up.

Not salty enough, add sea salt or kala namak. Too salty, add a bit more water. I share recipes with the amount of salt I ended up using but when I cook I typically start with 0-50% salt amount and always salt to taste, which supports the goal of an overall reduction in salt usage.

Store in a jar in the refrigerator about a week. The mayonnaise will thicken some in the refrigerator. Some separation is natural, just give it a stir.
Notes
I'll probably experiment a little with dry mustard in this recipe, but it's quite very good already! It doesn't carry the same oily sheen as store-bought mayo, and it's not pasteurized for long shelf life, but it holds its own where you might want something a bit better aligned with your eating preferences!
What's Next
I may add a "Craig's Test Kitchen" area to the site. I have no idea if people want to see stuff that's in the works or just finished recipes. For now, you can see some in-the-works stuff on my Instagram where I'm finding more and more like-minded foodies daily!
Craig's Green Table is on Instagram! 📸 Follow @craigsgreentable to see what's cooking! 💚
Also.. I realized that there may be some magical thing to be made that's a yellow split pea + cashew mayo base.