#oilfree #saltsavvy #satisfying #soycurls #airfried #plantbased #vegan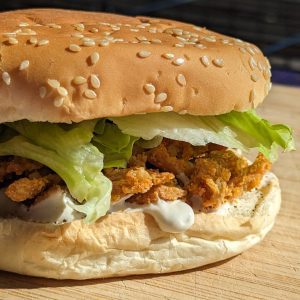 Plant-Based McChicken
This vegan McChicken copycat recipe is a much healthier alternative that can serve to knock out a tiny craving for fast-food drive-thru vegan chicken sandwiches.
Ingredients
Oil Free, Air Fried, Soy Curls 'Fried' Chicken
1

cup

plant milk

(almond, soy, etc.)

2

tsp

lemon juice

2

ounces

soy curls

(1/4 bag)

1

tbsp

cornmeal

1

tbsp

all-purpose flour

(other flours should be fine)

1

tbsp

panko bread crumbs

(traditional bread crumbs should also work)

¼+⅛

tsp

sea salt

¼

tsp

granulated onion

¼

tsp

granulated garlic

¼+⅛

tsp

paprika

⅛

tsp

black pepper

(you will need more for the sandwich!)

pinch

celery seeds

(optional)
Everything Else
iceberg lettuce

(or similar such as butter lettuce)

black pepper

(lots, to taste)

buns
Instructions
Add plant milk and lemon juice to a small saucepan over medium heat. We're going for a buttermilk-esque rehydration.

Add dry soy curls to plant milk mixture on the stove, stir occasionally and simmer over low heat until the liquid has been mostly absorbed and evaporated.

Turn off heat on saucepan, allow curls to start cooling down.

Mix the remaining seasonings from cornmeal to celery seeds in a mixing bowl.

Once the curls are just warm, add them to the mixing bowl and toss to coat.

Preheat air fryer at 390-400F for a few minutes, add coated curls and cook for about 6 minutes, until they taste just right.
Assemble Sandwich
I've tried various orders. I think ideally you would go: bottom bun, ckn soy curls, lettuce, lots of pepper, mayo on top bun. Toasting inside of bun is optional.

If you heat it briefly and wrap the whole thing, it will taste more like the real deal that you get in a wrapper.
Old Fast Food Habits Die Hard
Jonesing for the drive-thru but want to eat better? Old fast food habits die hard. Make over your McChicken obsession in a more wholesome way with this soy curls-based doppelgänger.
The intent of this post is not to glamourize fast-food. The photos are a nod to how many of us enjoy food with our eyes as much as our stomachs, and there's a joy in eating appealing food.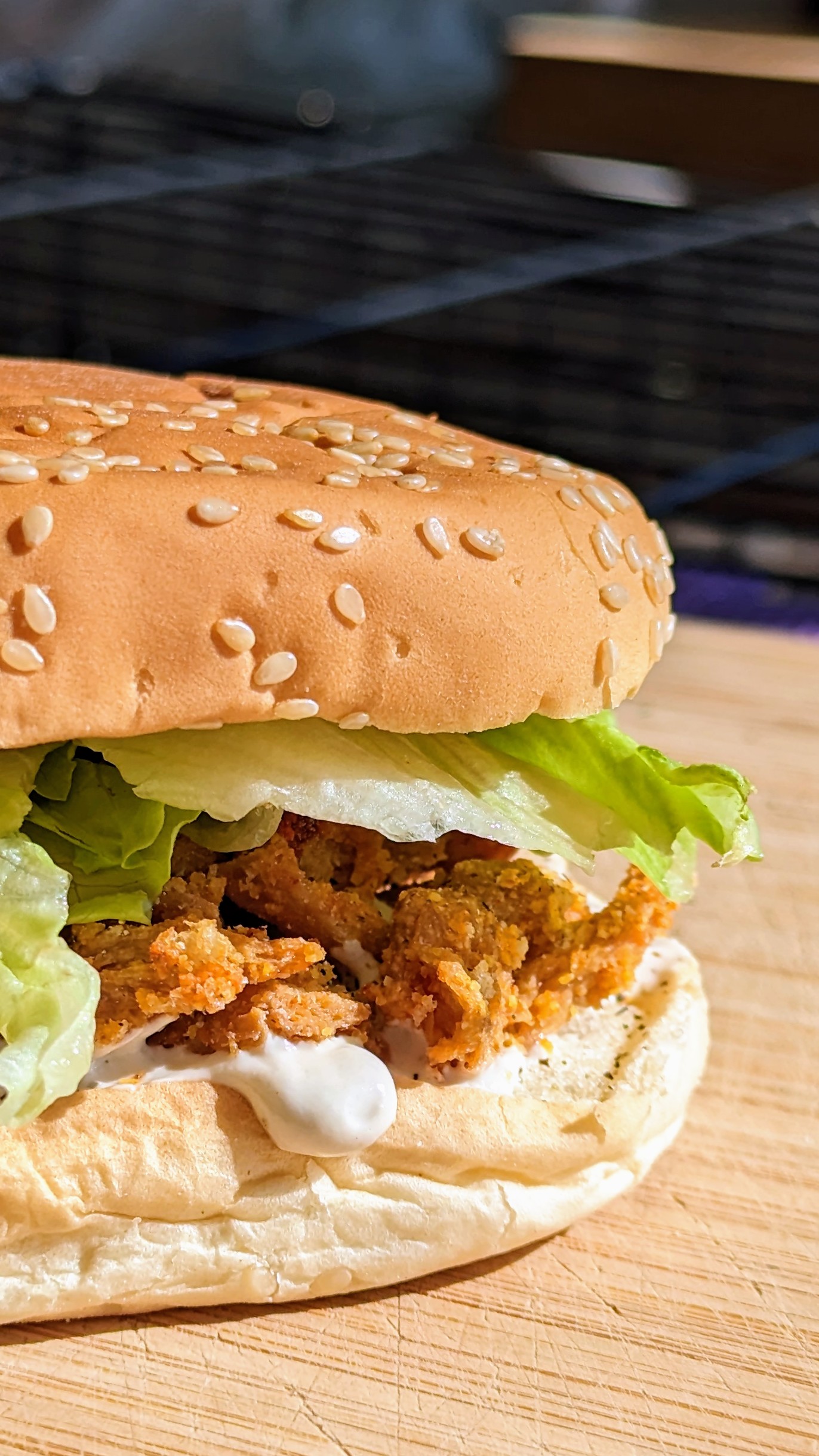 Why Make A Plant-Based McChicken/Vegan McChicken Copycat?
I'm working on an update to cover that, but in short, sometimes we can satisfy a craving with…
misdirection — e.g. is there something different to focus your attention?
a healthier, homemade alternative — e.g. this post!
a not-so-much-healthier, commercial alternative — e.g. frozen vegan breaded chicken patties, etc.
just eating the original version you're steering away from — e.g. drive-thru
If you're wondering about my take on willpower, I do not believe it is a sustainable option for many, and for that reason I won't list it above as an option.
Depending on how I'm feeling, I will pick the single best option for me out of all of the above. This very approach has made my journey towards sustained better eating possible, and I wish I had realized ages ago that giving myself more slack and focusing on overall direction was the true key to my personal dietary success. Better late than never!
For me, this sandwich is not a meal, it's a cravings buster! It's not very filling at all, but it hits the senses and lets you get along with your day.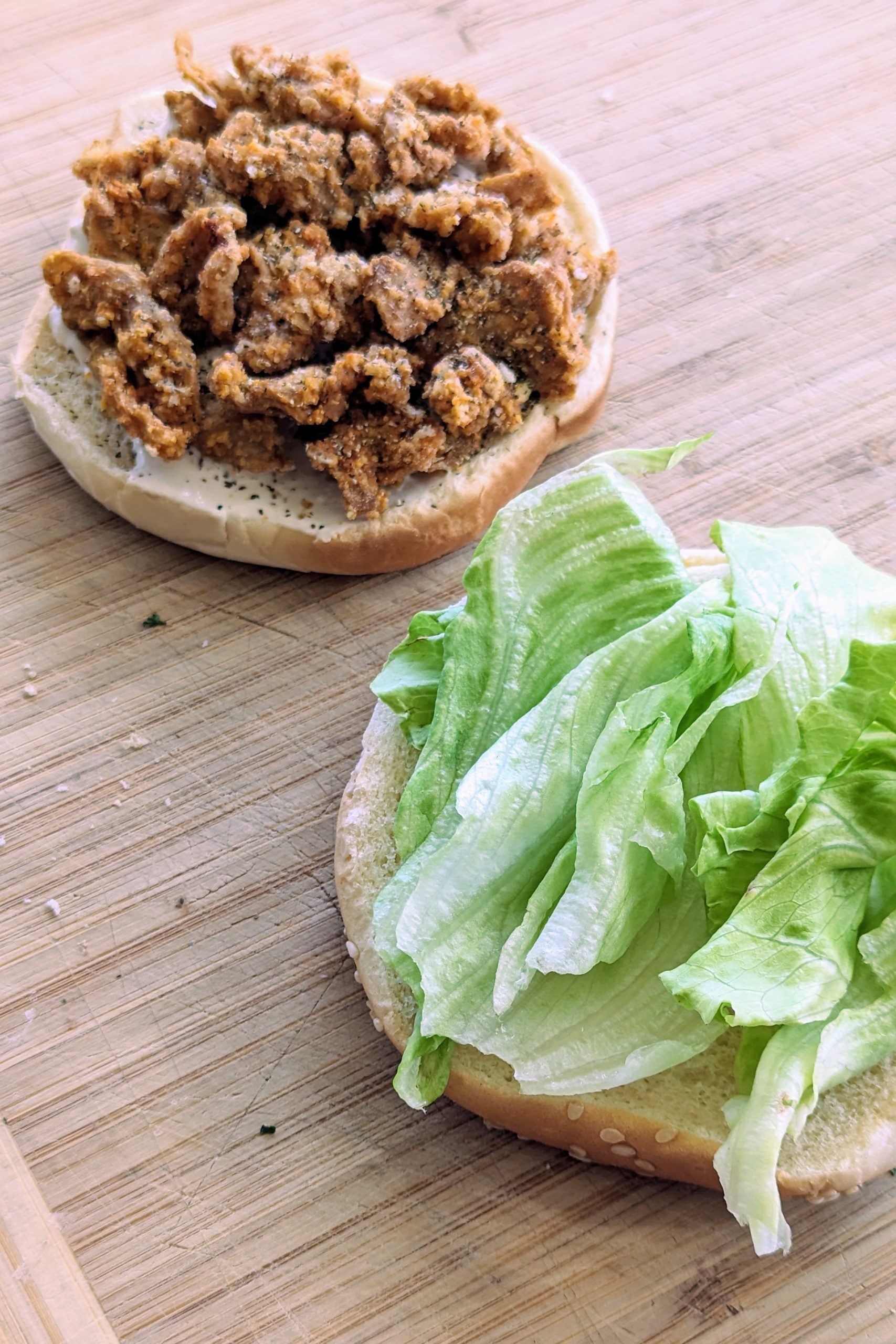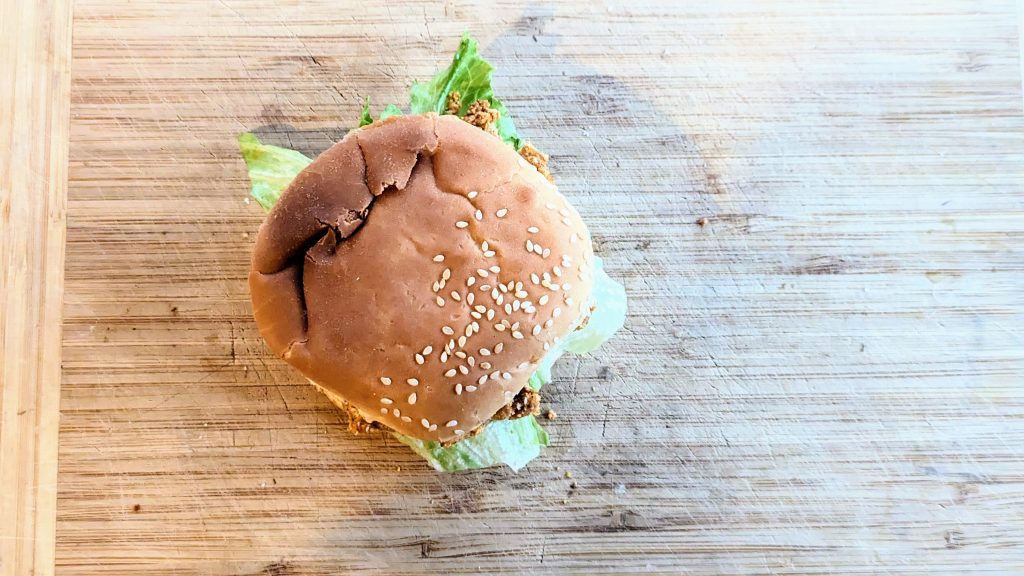 This is a small recipe, it makes about 2-3 little Plant-Based McCkn sandwiches. The gently breaded soy curls are tasty in their own right, but they're meant to give that really basic, breaded chicken-y experience, and not that heavy, hyperpalatable experience of deeply coated, greasy fried chicken.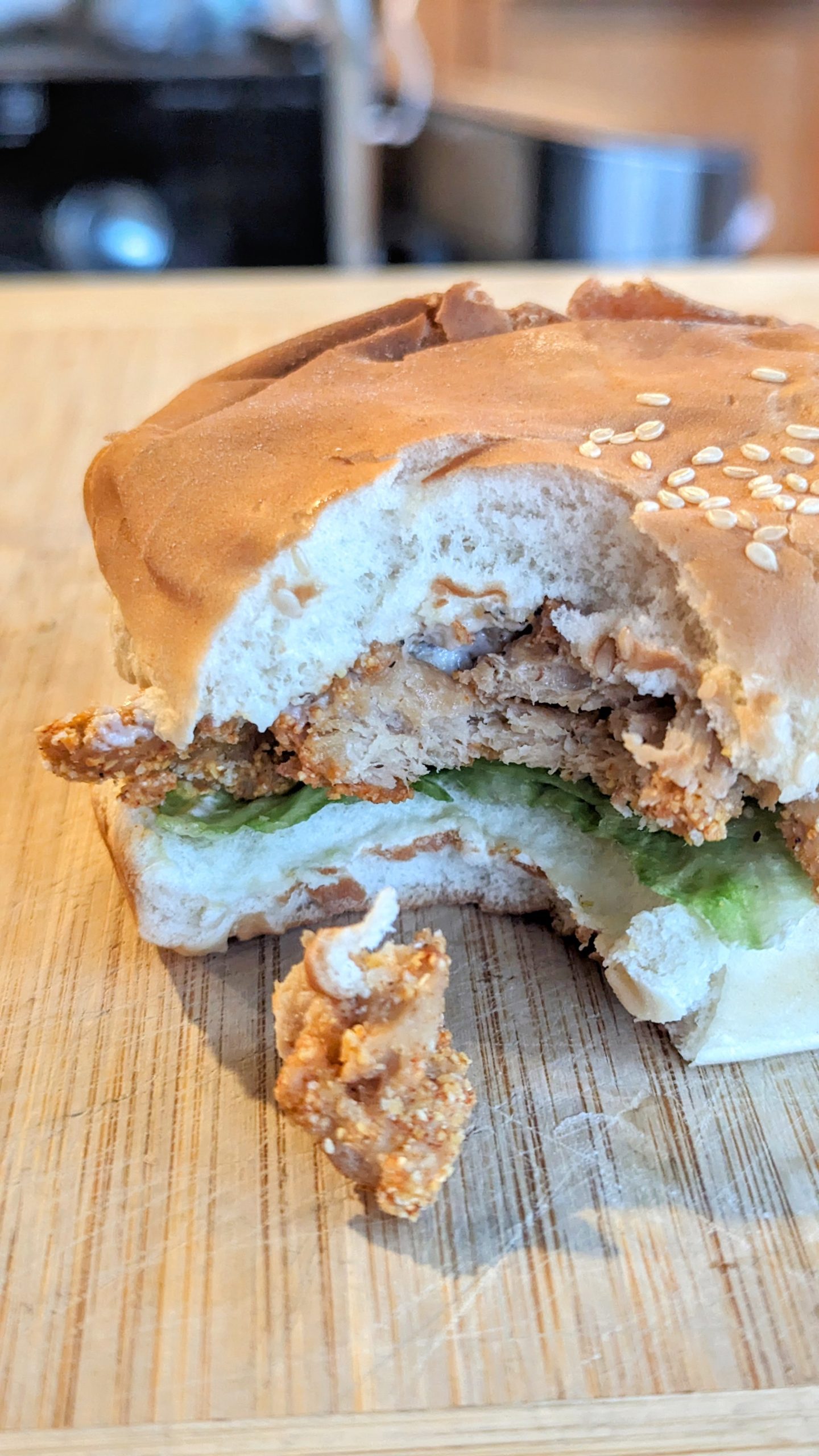 Sometimes I look at soy curls when eating or in a photo later and I'm like 'daaaaang' because it's incredibly rare to see a single-ingredient plant-based food look that strikingly similar to meat.
The Oil Free, Air Fried, Soy Curls 'Fried' Chicken
On their own, they really don't look like much, but the flavor is on point for what I'm going for here. The goal wasn't the best little breaded fried chicken made with soy curls, it was an ingredient for a nutritionally neutral nosh. I might do more with these in the future, but for now they have a home in this little sandwich.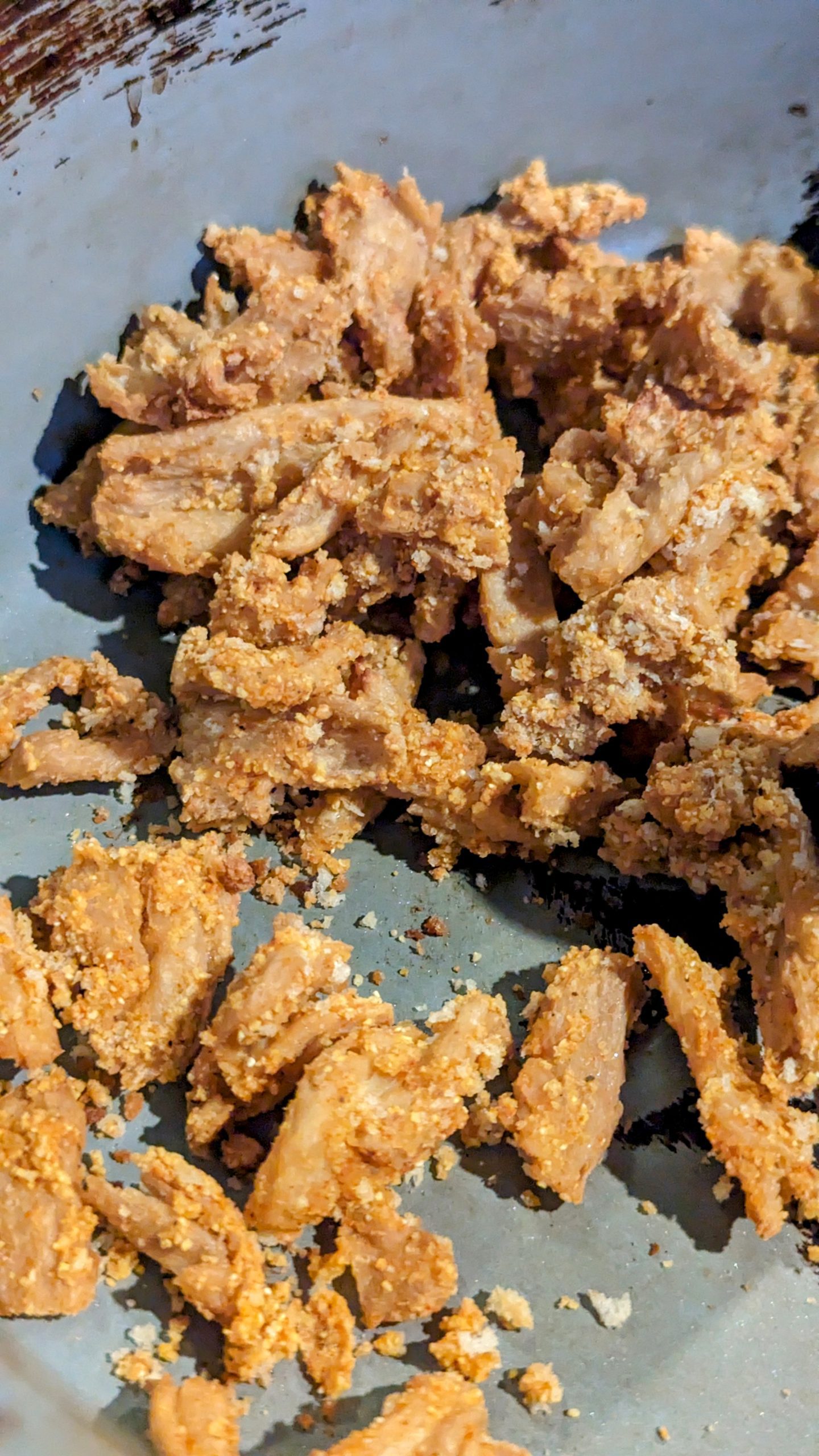 Pin It!