#2023 #thanksgiving #amazing #vegan #turkey #cutlets #shredded #soycurls #glutenfree #oilfree #wfpb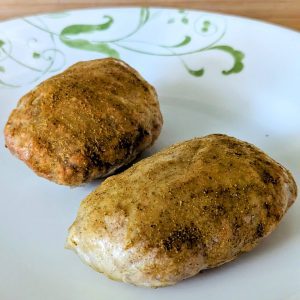 Plant-Based Turkey Cutlets
Restaurant, store, or homemade, this is hands-down one of the best cutlet's I've ever had! These plant-based turkey cutlets are top notch for a vegan Thanksgiving or any other time you'd like a meal with a nice, dense turkey cutlet.
Ingredients
Instructions
Add all 'Turkey-Inspired Broth' ingredients to a saucepan. Bring to a simmer, add soy curls, turn off heat, stir. Cover for 10 minutes (stirring once after a few minutes).

Shred soy curls (see video in notes).

Add oat flour (or other binder) to soy curls and mix well with your hands. Really squeeze it all together! They should stick together, but only just. If it's too dry, add a tiny amount of water to your hands until it just sticks!

Dip rice paper in water for about 10 seconds, and put it on a cutting board. Take a small handful of the mixture (1/4 of it) and form a dense cutlet. Set it on the center of the rice paper, and when the rice paper is sufficiently pliable, wrap it around the cutlet. Wrap it tightly, trying not to break the paper (it's ok if it breaks). Repeat with the remaining cutlets.

Make your herb baste. Simply mix the vegan chicken bouillon powder with water until it's just thinned out!

Air fry on parchment at 390-400℉ 8 minutes, then baste, and air fry 4 more minutes or until desired brownness and crispiness.

You could also oven bake or cook in a skillet. NOTE: I highly recommend using parchment paper. Until you feel confident in the rice paper not sticking, you an also dust with a little bit of rice flour (which slightly alters the appearance) and they will not stick, I do this all the time!!
Notes
See how to shred soy curls at my definitive guide to shredding soy curls (I use the blender method for this).
I use the small rice paper in this recipe, but it's not the most popular size. If using larger sheets, simply rehydrate the sheets and cut in half to make 2 cutlets per sheet.
The Steps
Create a turkey-inspired broth
Rehydrate soy curls
Shred soy curls
Add binder to soy curls
Rehydrate rice paper
Form a dense cutlet with your hands
Wrap in rice paper
Optional: initial baste (do this if you want the skin to have extra flavor)
Air fry (or bake, or cook on a skillet)
Baste
Finish cooking
📨 Sign Up For Free Email Updates
Receive occasional emails about recipes and content related to Plant-Based Recipes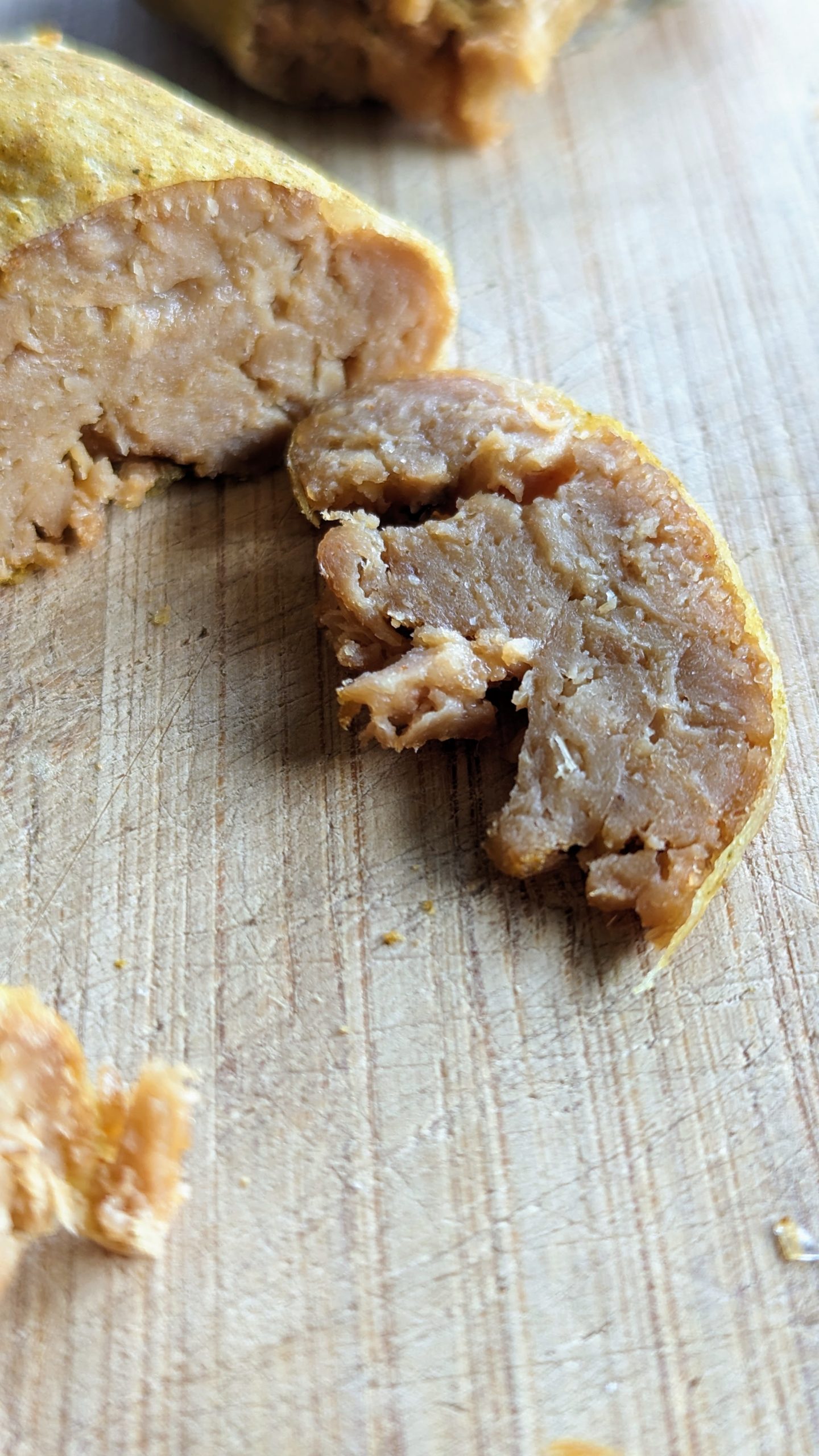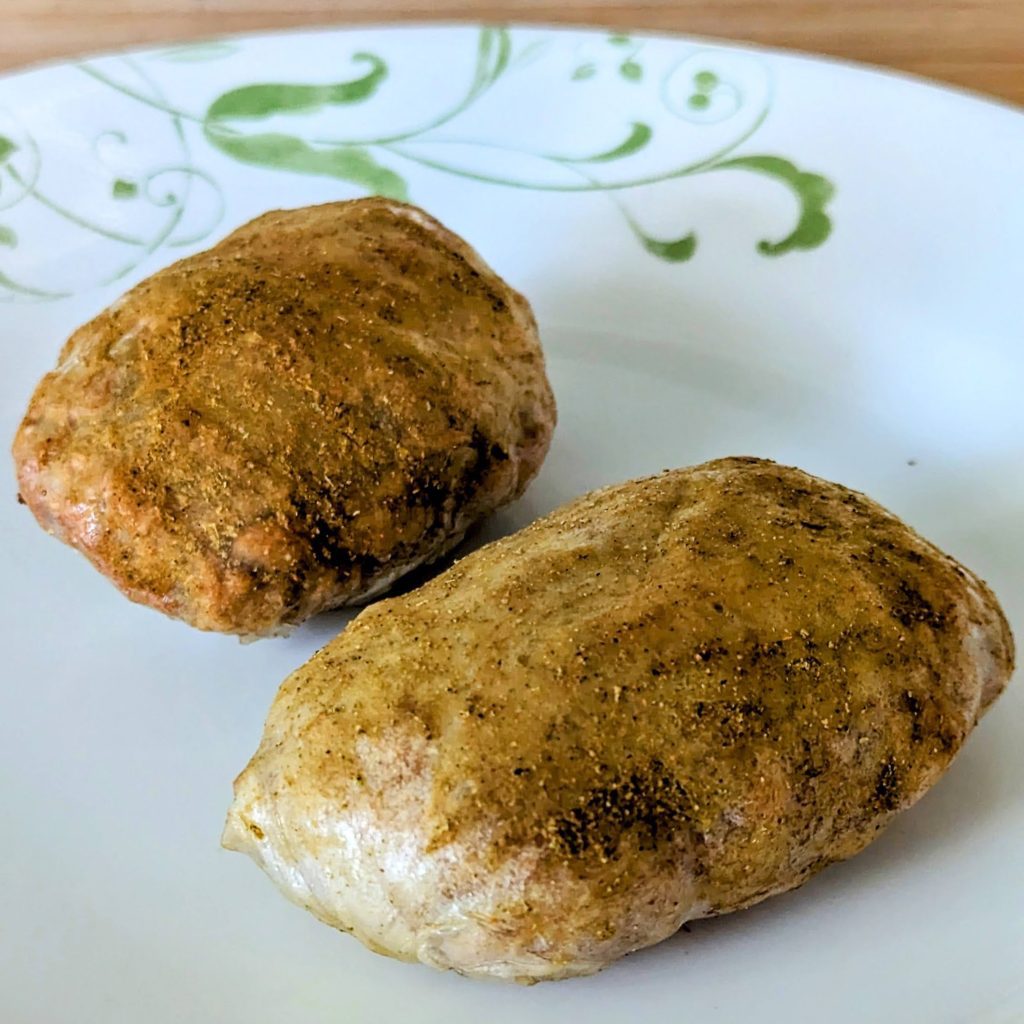 About These Vegan Turkey Cutlets
For a few years now, I've been experimenting and dreaming of ways to replicate some meaty tastes and textures with whole foods. Enter: soy curls. I don't cook with soy curls as much as I used to, but I still do sometimes. I continue to use them because they're so versatile, and I do appreciate the minimally processed nature of them. I've spent too much time searching for something to replicate turkey flavor, only to realize that's not the direction I want. I want to replicate the experience.
Not the experience of carving a turkey; that's a pain in the ass. I never liked doing it. The culinary experience of a dense, meatless, meaty, herb-infused cutlet that's wrapped in a fat-free fatty/slightly-tough/crispy basted skin (made with our good friend rice paper). It's actually wicked simple!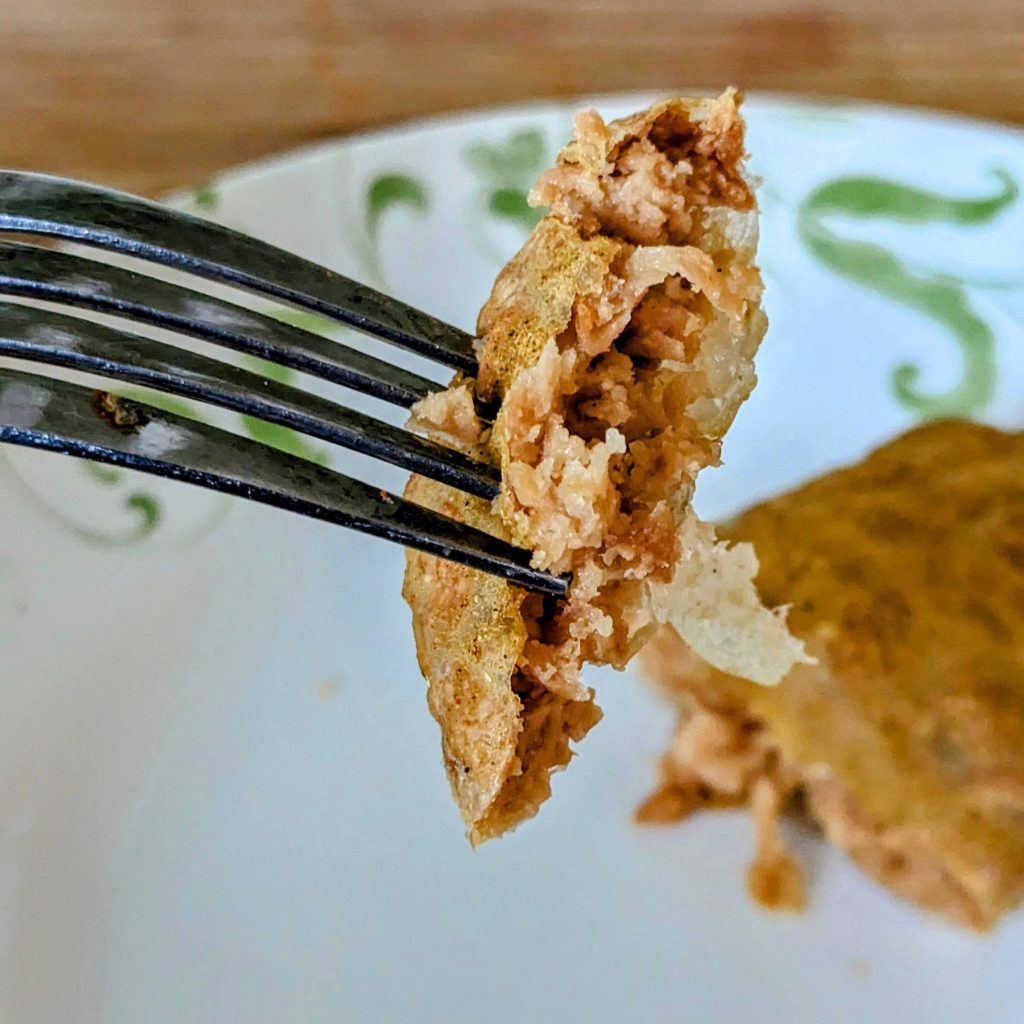 The Strategy Comes Together
I've been doing the shredded soy curls thing for a while, but the best binder to date has been the less-than-ideal methylcellulose. After making some millet quenelles in a recipe shared by @chris_vege_95, a fantastic individual I met on Instagram, I realized I don't need some perfect meaty binder, I just need a simple binder.
Simple Binders
In his recipe, @chris_vege_95 uses chickpea flour to bring already sticky millet into a hearty quenelle. Impressive, no doubt. So I tested with chickpea flour and masa harina (fine corn flour). Chickpea flour works well in his recipe, but it is overpowering in this one. I liked the masa harina. It's got a distinct corn presence, but let's be honest, corn tastes better than turkey every did, and the lightly seasoned soy curls as well as the basted rice paper skin are still the stars.
And The Winning Binder Goes To…
I was really impressed with this simple cutlet. It tasted good warm, cold, even at room temperature! So, I tested more binders out of sheer curiosity, and the clear winner was shocking: oat flour. Somehow that underlying oat warmth CRUSHES it here, but if you don't have oat flour, there are so many options that I tried in micro batches that are wonderful. I tested them all in the same ratio (1 tbsp binder to 1 dry ounce soy curls, rehydrated in broth) and that worked out just fine!
Oat flour
Rice flour
Corn flour (masa harina)
Cornstarch
Visual Steps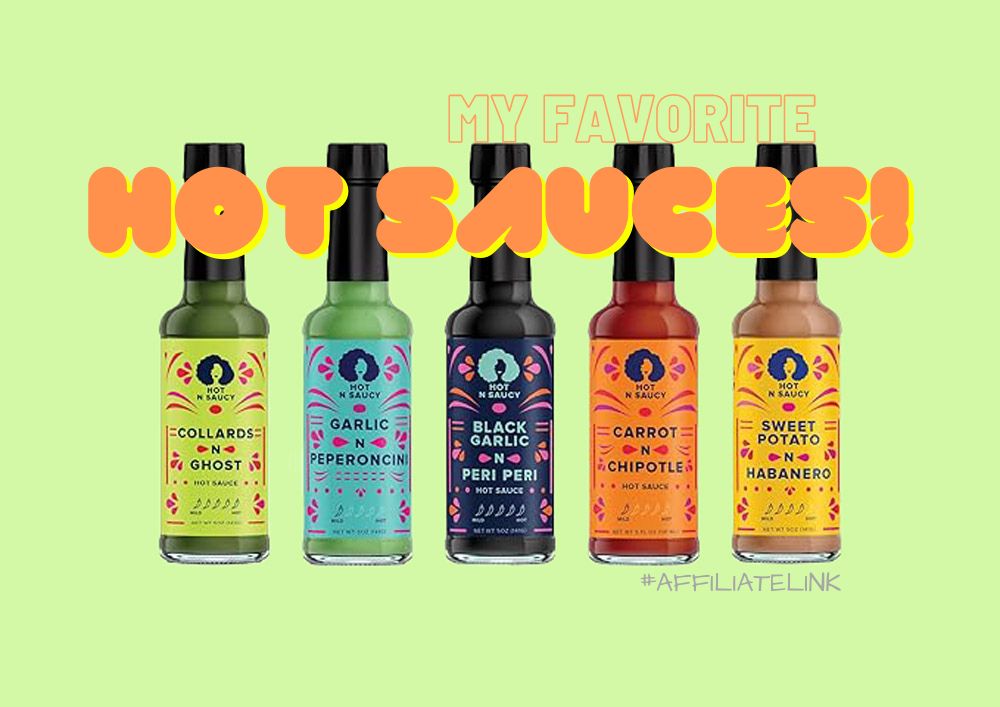 Final Thoughts
I've been trying to get to something like this for a long time. Something hearty and satisfying that doesn't require weird ingredients and doesn't taste weird. Honestly, I can't believe how simple it ended up being. A lot of what we make seems lost in mish-mash of ingredients (shout out to my plant-based sour cream!), and the most important takeaway I've had so far is to strive for simplicity, but accept complexity when necessary.