#thanksgiving #oilfree #nobroth #nobouillon #simple #glutenfreeoption #homestyle #childhoodtaste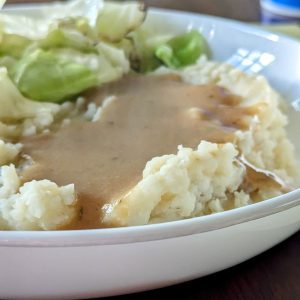 Plant-Based Turkey Gravy
A pleasantly herby, seasoned plant-based Thanksgiving gravy that's just like the gravy we used to eat at holidays during my childhood. It does NOT depend on broth or bouillon and has that super classic homemade taste.
Ingredients
2 ¼

cups

water

(cold or room temperature)

¼

cup

roux flour

(roux flour is just toasted flour, see notes for other thickeners)

¼

tsp

granulated onion

¼

tsp

granulated garlic

¼

tsp

rosemary, dry

¼

tsp

oregano, dry

¼

tsp

sage, dry rubbed

¼

tsp

marjoram, dry

⅛

tsp

black pepper, ground

⅛

tsp

paprika

small

pinch

ginger, dry

(optional)

¼

tsp

apple cider vinegar

1

tbsp

Bragg's liquid aminos

(or low sodium soy sauce or tamari)

½

tsp

sea salt

(plus more to taste, if desired)
Instructions
Add all ingredients to a saucepan, whisk to mix, and then turn on medium heat. Whisk frequently. Once gravy starts to simmer, keep on low heat just under a simmer and cook 10-20 minutes to allow flavors to mingle and to reach ideal thickness.
Notes
Roux Flour
Roux flour is the name I call raw wheat flour (any type) that has been toasted to remove the raw flavor. This flour makes gravy that tastes most like those of pre-2000 era, and without the added fat. 
How to make roux flour: I typically toast the flour, whisking slowly but frequently/constantly in a skillet over medium/medium-low heat for about 5-6 minutes until it just starts to become fragrant.
Choose Your Thickener
In the name of culinary arts and my taste buds, I have tested a number of thickeners for this gravy. They each fall into a category of 1 or 2 tbsp per each cup of water. The amounts listed will be to use in this original recipe.
Roux flour, all-purpose, 1/4 cup
Roux flour, whole wheat, 1/4 cup
All-purpose wheat flour, 1/4 cup
Whole wheat flour, 1/4 cup
Brown rice flour, 1/4 cup
White rice flour, 1/4 cup
Potato starch, 2 tbsp
Cornstarch, 2 tbsp
Arrowroot, 2 tbsp
Won't raw flour give the gravy a raw flour taste? If we added a slurry of flour and water near the end of cooking to thicken the gravy, absolutely it would taste 'raw', but that's not how this recipe is made. To ensure plenty of actual cooking time for the flour, we whisk it in first thing, and it spends the entire time heating up and an extra 10-20 minutes on a very low simmer cooking thoroughly.
Make This Ahead of Time!
Not only is this a groundbreakingly simple, familiar recipe, but if you make it ahead of time, it reheats and tastes even better as leftovers as the flavors continue to meld. Simply reheat in a saucepan or in the microwave, and add water to thicken as needed. Rice-thickened gravies tend to get thinner when chilled but are still very tasty as leftovers!
Vegan Turkey Gravy
I've been trying to figure out a plant-based, vegan turkey gravy for years. I knew it would be similar to traditional poultry gravy, but what made turkey gravy taste different? Assuming it was some odd combination of turkey proteins, I consistently tried things and failed, until it finally dawned on me that it wasn't something to add, it was something to remove.
For chicken-y gravy, unique herbs would be thyme, tarragon, and parsley.
For turkey-y gravy, the exclusion of those above herbs is key, as well as a prominence of rosemary, marjoram, and the seasoning paprika. Taste this gravy and I'm confident you will be joyous with the flavor and consistency!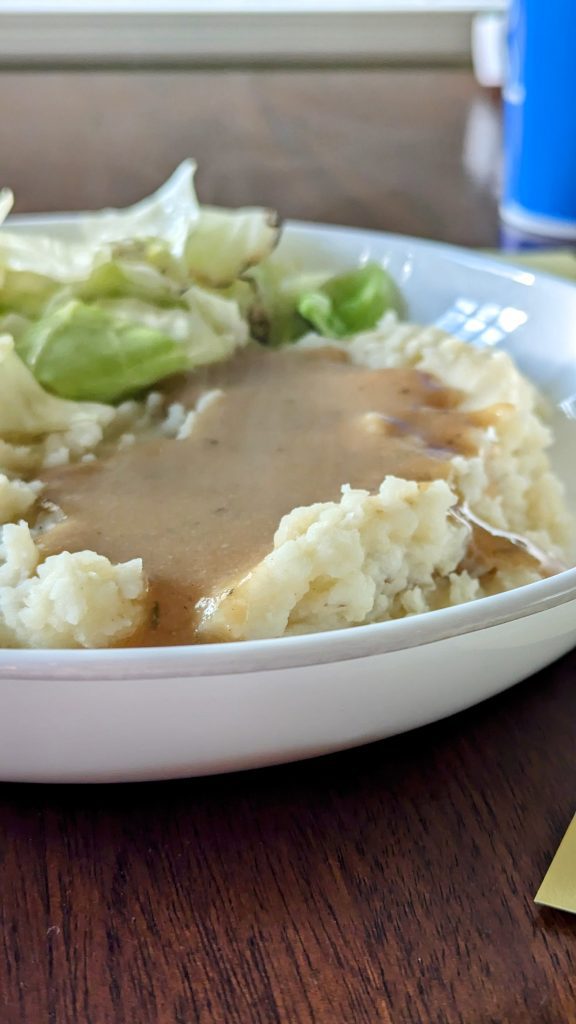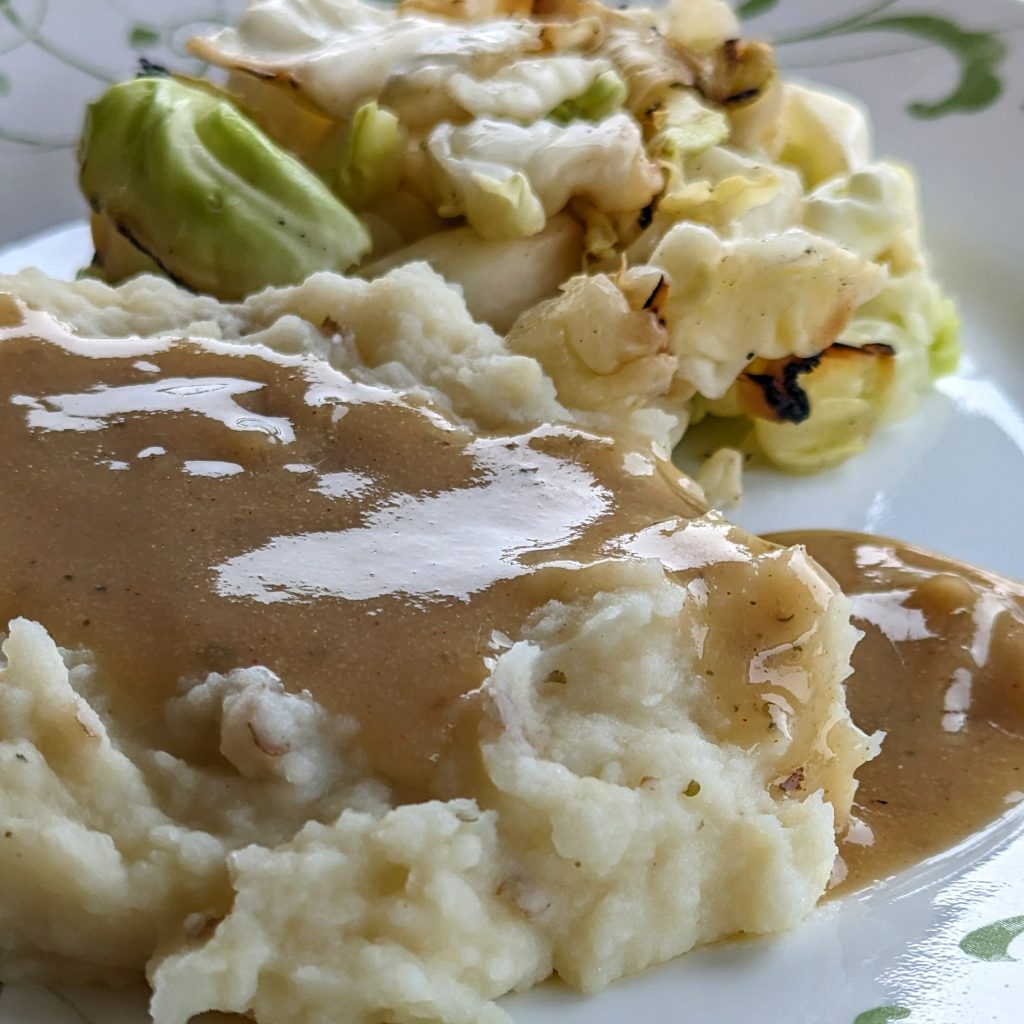 Kick It Up A Notch
If you want to get fancy and play around with some ideas for plant-based gravy that will raise some eyebrows, try adding cracked rice paper to the gravy after it's finished cooking. It will have the appearance and texture of turkey skin/fat in the gravy. I know this is unappealing to some, but I find it quite nostalgic.
And next-level: lightly baste the dry rice paper sheet in a light water/bouillon mixture, then toast it, and THEN crack it and add it to the gravy. I don't often go to the extra effort for either of these, but I do sometimes because it's fun and different!