#roux #thickener #oilfree #traditionaltaste #mcdougall #starchsolution #plantbased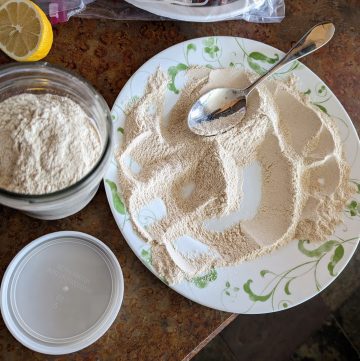 Roux Flour
Roux flour is simply toasted flour that can take place of a flour/fat roux that is typically used as a thickener in sauces, gravies, soups, and stews.
Ingredients
flour

(all-purpose, whole wheat, a blend, or similar)
Instructions
Simply slowly whisk the flour over medium heat for about 5-10 minutes (depending on amount of flour and heat) until the flour aroma becomes aromatic. This is for a 'light roux'. You can heat longer for darker roux.
Notes
Why Roux Flour
The main reason I make roux flour is because it adds that familiar flavor to certain sauces and gravies without the extra fat that comes with traditional roux.
Storing Roux Flour
I store roux flour in a a mason jar in the freezer indefinitely.
Gluten Free Option
I've not tried this, but I expect that one could make a gluten-free roux flour by using the same strategy with white or brown rice flour or gluten-free flour blends!
To Whisk or Not To Whisk?
I sometimes use a steel or silicone whisk to make this, but I find that the flour often goes airborne with a whisk, and a nice wooden spatula keeps things grounded.
Oh, AND…!
You can also make toasted sesame flour to replace roasted tahini with this same method! It works beautifully!! This is exactly how I make the best full-bodied, flavor-filled, low-fat, light hummus on perhaps the entire planet.