#meaty #plantbased #savory #soycurls #mexican #rich #healthy #glutenfree #oilfree #lowsalt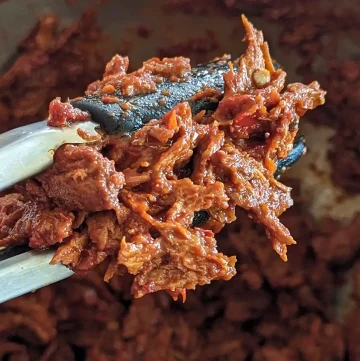 Tres Chiles Soy Curls
This plant-based beefy version of soy curls is astoundingly rich, tender, and meaty. The minimal ingredients really highlight the true flavors within. Enjoy over rice, in tacos, burritos, or even on potatoes!
Equipment
Pressure cooker

(Optional. You could instead just add a bit more water and simmer on the stovetop until rich and tender)
Ingredients
3-4

cups

water, divided

2

ancho peppers, dry

2

California peppers, dry

(or Guajillo)

¼

medium

red onion, coarsely chopped

5

cloves

garlic

½

lime, juiced

¼

tsp

sea salt

(optional)

4

ounces

soy curls, dry
Instructions
Remove seeds from the dry chiles and discard seeds. Add chiles to a small saucepan with water and simmer for just a few minutes to soften. Discard chile broth or save for a spicy, savory sipping broth.

Add chiles, onion, garlic, lime juice, and 1 cup water to blender (or food processor) and pulse to combine into a thick, chunky sauce. Do not puree.

Add 1 more up of water (to make 2 cups total) Optionally, add salt to taste, I used ¼ tsp sea salt. Pulse a few times to combine.

Pour sauce in an instant pot, add 4 ounces dry soy curls, and optionally a few sticks of celery and a small carrot to impart some more great flavors.

Pressure cook on high for 5 minutes and quick release. Enjoy the plant-based meat or set aside the veggies and shred the soy curls if you prefer! *Shredding link in notes.
Wow!
If someone eating a typical diet asked me to make them something healthy that didn't taste healthy, this would absolutely make the shortlist. It's a rich, deeply savory, meaty presentation of soy curls that tastes even better than it looks, and it looks really good!
I used the stand mixer method of shredding soy curls. You don't even need to shred them, that's totally optional.
Visual Steps for Tres Chiles Soy Curls
Have You Ever Noticed…
… that smokey foods require less salt to impart great flavor? The complex flavor profile from smoked foods (such as the morita chiles in this recipe) have flavor compounds that satiate the senses and reduce the need for so much added salt. I use the same 'trick' in my Plant-Based Smokehouse Ham recipe to keep salt lower than typical deli meats but impart strong flavors.