No oil. No water. No sugar. No weird stuff. All you need are raw walnuts and optionally a bit of salt to make this walnut butter. This is hands-down the best walnut butter recipe out there!
I always start with frozen raw walnuts, and after all the blending they will end up at room temperature. If you start with room temperature walnuts, the finished walnut will be warm and you'll need to cool it down for storage in the refrigerator. This nut butter can last several weeks in the refrigerator.
Shop around for less expensive walnuts in bulk sections or at bulk stores like Costco, Sam's Club, or BJs. Of course if you're looking for efficiency, you can order walnuts from Amazon in a zip (#affiliatelink).
Video Steps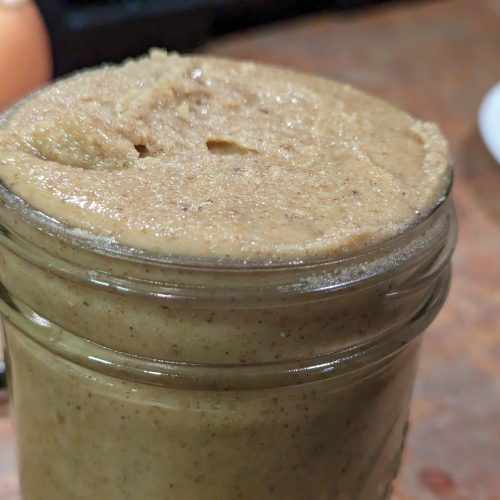 Walnut Butter
A delightfully savory nut butter that I use as a fat/oil source in many recipes. This is one of my favorite recipes of all time since it's easy to make, nutritious, and tastes divine!
Ingredients
1

bag

walnuts

(frozen or at room temp)

salt

(optional, just a pinch or two to taste)
Instructions
Fill the food processor about 70-90% full with walnuts.

Turn on the processor, and stop every 1-2 minutes to scrape down the sides as needed. Room temperature walnuts may not require scraping.

Process until desired consistency, about 5-10 minutes total, including stirring time.
Notes
Walnut halves or walnut pieces are both fine for this recipe. I prefer to make this with frozen walnuts so it gets thick but not TOO creamy. I've been making this recipe for many years, and it's always a delight. It's great for recipes as well as plain on a slice of bread (or as a sandwich) with a sprinkle of salt.